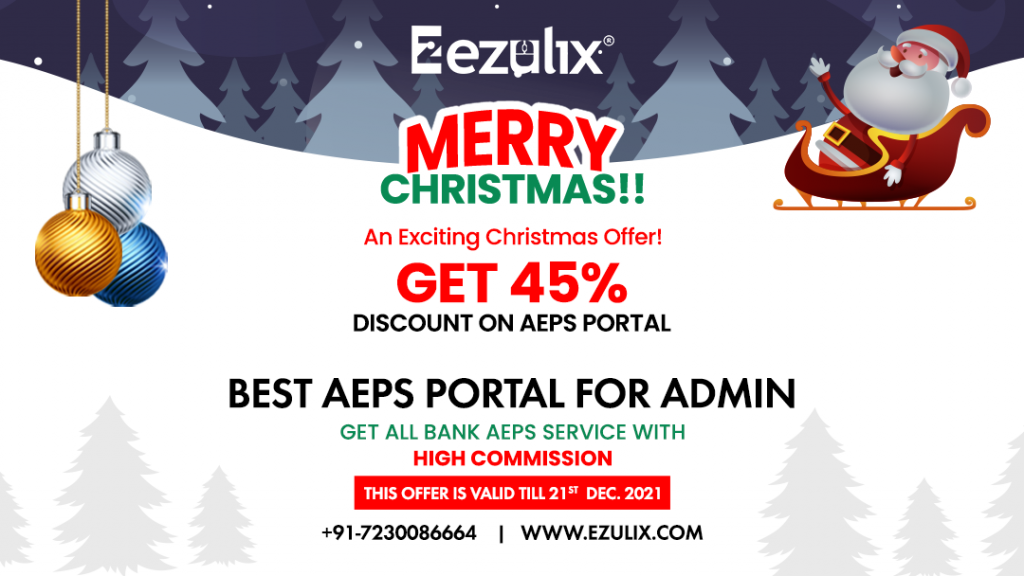 AEPS is well-known term today in b2b fintech industry. Everyone is now familiar with aeps service and its benefits. Today in this article, I will explain to you how you can use standard aeps software to start your own mini banking business at lowest investment in India.
So without wasting time, Directly I come to point.
Ezulix software is a well-known AEPS service provider company in India over the last few years. Aadhaar enabled payment system was started in 2010, to bring all sectors of society into same banking platform. We have developed standard aeps software integrated with highly secured aeps api that allows you to provide all basic banking services to customers and earn commission as profit.
On the occasion of Christmas, we are offering the biggest discount of the year on standard aeps software.
Yes, now you can start your own AEPS business as admin with our latest aeps portal and can save 45% today.
Standard AEPS Software – Bringing Endless Business opportunity
The concept behind aeps was providing banking services through b2b chain that generates endless business opportunities.
Banks provide banking service APIs to fintech companies and they integrate these APIs in software and further provide to people who want to start their own NBFC companies. Anyone can start their own mini banking business as admin and can create unlimited members as authorized banking service providers.
NPCI instructed to banks to provide banking services to customers through this system.
That time when aeps started, this was most fast and less expensive method of penetrating banking services in those areas.
Today not only banking services but also many government facilities can be used by aadhaar card.
How to Start AEPS Business with Ezulix?
To start aeps business with ezulix, you have to apply for a free live demo. Our executives contact you and provide you free live demo of our aeps portal. This process helps you to understand our portal, its services and feature.
After completing deal, we provide you fully customized standard aeps software with all banking services and advanced feature. Along with aeps portal, we provide your business website and mobile application integrated with aeps portal.
We offer you manual training so that you can understand the functionality of our system. Here we learn you each and everything bout software, its functions and services that helps you to run your business smoothly and successfully.
Why Choose Ezulix Standard AEPS Software?
Our b2b aeps software is fully customized & based on cutting edge technology
Uniquq member panel helps you to attract more members
You can create unlimited members in downline
Admin is prior person of software
Admin control all members, services, wallet
Service ON/OFF button
Highly secured aeps panel
We provide aeps service through multi bank
99.7% success ratio that is highest in market
Members can take 24*7 real-timem settlement
We provide mATM with mPOS feature
UPI PoS helps you to earn commission on accepting payments
We provide you lifetime free tech support
These are a few highlights that will help you to make a good decision.
Conclusion
On the occasion of Christmas, we are offering the biggest discount on aeps software so that people can start their own business and can complete their business dreams.
You can redeem this offer by visiting here.
For more details about aeps service, aeps software and aeps business visit my website. Along with aeps, you can offer recharge service to your members by integrating mobile recharge software in this panel.
7,057 total views, 1 views today