Christmas Offer- Get 10% Discount on All Web & Software Service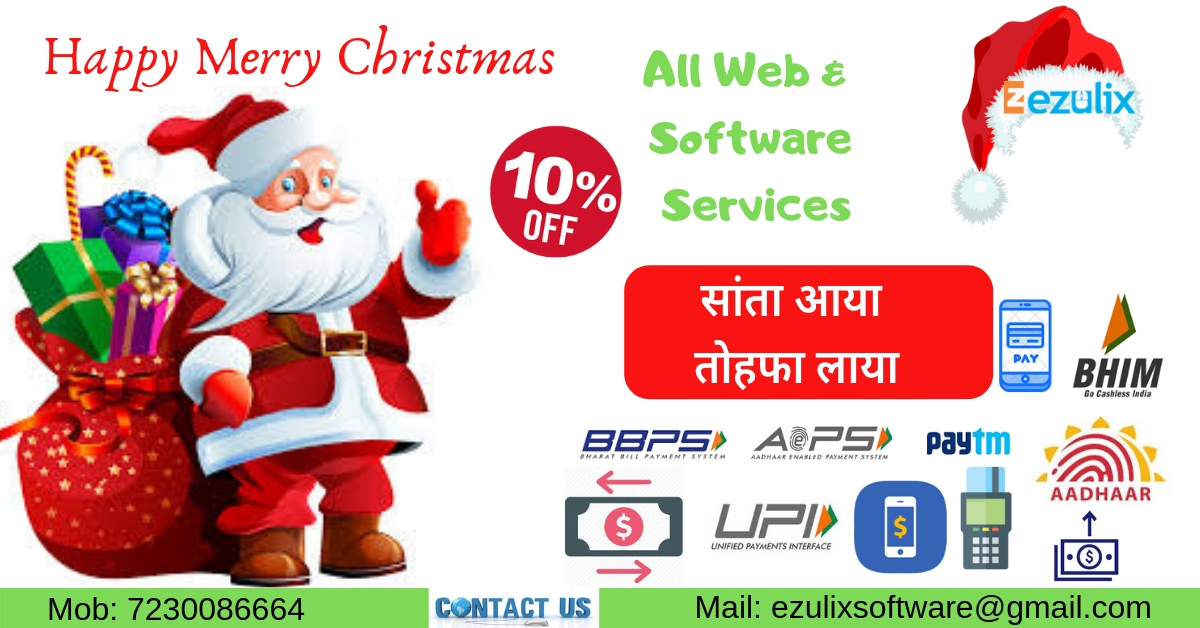 Christmas Offer, Don't Miss Discount on All Services
On the occasion of Christmas, Ezulix software offering up to 10% flat discount on all web & mobile software services. Hurry up, don't wait and get benefit of this Christmas offer.
On this auspicious occasion, start your own business with Ezulix and get discount up to 10% on all services. If you are exist in market you can enhance your service range and earn more.
Ezulix software is one of the best web & software solution provider company in India over the last we years. We provide best software with endless support system. This is the reason today we have a huge portfolio of potential customers over the India. Our main aim is to provide best software and service to clients so that they can satisfied and earn more money.
Now we will discuss about my services which we facilitate-
All Services under Christmas Offer
These all are services facilitate by us through Ezulix software as per your requirements.
So if you are really looking for these services then this is the big offer for you to start work with us and earn profit. We provide maximum commission in the market.
Process
These are some simple steps to join our software. You have to contact us through mobile number or mail which I will mention in the last of this article. Then we will send you proposal of your required services. After completing proposal process, we will provide manual training to you & your staff so that you can understand software completely. This will help you to handle it. Now you can start work by installing it. If you have any post queries regarding software and customers you can contact to our service team anytime free of cost.
Basically, there are 4 levels to start business with us. You can start from any level which is suitable for you & under your budget.
So don't miss, grab this opportunity now.
Contact us on below details.
Mob: 7230086664
Mail: ezulixsoftware@gmail.com
Website: https://ezulix.com/
Conclusion
Get benefits of this Christmas offer, We facilitate all above services and on the occasion of Christmas & new year we are launching more services to build your software strong.
Along with these services we also facilitate Website Design & Development, Logo Designing, Digital Marketing Services and Mobile App Development Services. You can get benefits on all services up to 10%.
Don't wait, hurry up & get this opportunity now.
At last wish you all very Happy Merry Christmas Regards Whole Ezulix Software Team. May this Christmas bring joy and happiness in your family.
Please follow and like us: