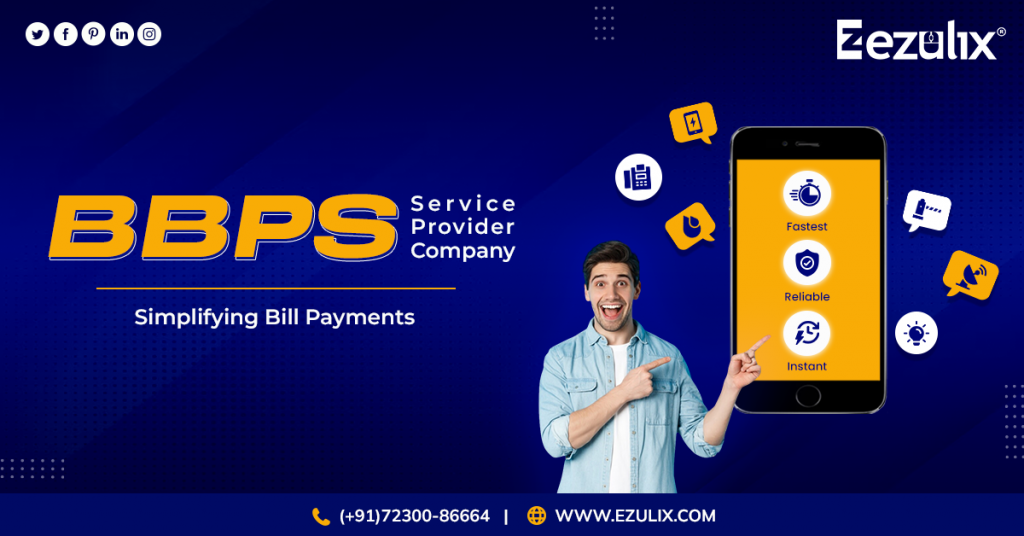 Welcome to my blog! I am introducing you to BBPS service provider companies. In a fast-paced world, BBPS service provider company is dedicated to simplifying the problem bill payment system. Let's dive and understand how our BBPS service provider integrates the BBPS platform to offer a convenient solution to pay all your bills.
Understanding Bharat Bill Payment System
The Bharat Bill payment system is designed by the Reserve Bank of India (RBI) and managed by the National Payments Corporation of India (NPCI). BBPS acts as a centralized bill payment system for consumer bills. It provides recurring benefits for basic utility services such as electricity, phone, gas, and Direct-to-Home (DTH). Consumers are not allowed to take a queue for payment of electricity bills. Now you can take a bill payment system for all types of bills. As India continues to embrace digital innovations, BBPS is also giving steps to a digitally empowered economy. The success of BBPS has marked a crucial turning point in India's payment environment.
The Role of BBPS Service Providers
BBPS service providers are playing an important role in the smooth functioning of the Bharat Bill Payment System (BBPS). BBPS portal works as a mediator for users and service providers. Service providers provide a uniform platform for paying the bills. Now look at the duties of BBPS service provider company:
Integrate Billers on a Single Platform
BBPS service providers form alliances with a wide range of biller companies. By integrating billers, service providers ensure to pay bills differently from a single platform.
Offer Multiple Payment Systems
User can choose their preferred mode of payment with the availability of different channels. It increases convenience and accessibility for customers.
BBPS service providers ensure transparency and help clients easily track their payment history. Provides real-time updates with fast confirmation and receipts of payments.
Implement Robust Security Measures.
Service providers ensure that transactions are safe, secure and no unauthorized access. They ensure stringent security measures like encryption techniques and secure payment channels.
Compliance with Regulatory Measures
Any service provider company need to follow the National Payment Corporation of India and other authority's regulations. Compliance provides confirmation that the BBPS ecosystem provides security and transparency.
Key Features of Leading BBPS Companies?
BBPS service providers provide a large network of bill coverage for a variety of utility bill payments like electricity, water, gas, telecom, internet, and many more. Consumers can pay bills for different services on a single platform.
BBPS companies provide different payment channels to their customers. Customers can pay their bills with multiple channels. For your ease, it is been happy to pay with single pay.
Leading BBPS providers allow users to pay bills using any bank account or payment by their choice. It improves the user experience and gives competition among payment service providers.
Instant Confirmation Receipts
After successful payment, users receive confirmation receipts for their payment. This useful feature keeps track of their payment history with confirmation.
Bill timing with their reminder can make users transact instantly with their confirmation.
Choosing the Right BBPS Service Provider Company?
Choosing the right service provider is important to collect their features to proceed. Here we are discussing important features of them with their experience. You can go with their accepted services from other users. In our above section, we discussed the important features of any BBPS API provider to provide the best services. Proper compliance with regulations should be followed before developing any platform. Some important features to take while taking services are payment methods, integrating billers on a single platform, and robust security measures before considering any company. By these variables, you can make an informed selection of the best service provider according to your expectations.
Conclusion

With this blog, we have discovered how BBPS bill pay can let you pay bills conveniently. Consumers' daily life can be developed easily by BBPS service providers. If you want to build your own payment site, you can start with Ezulix and turn your initiatives toward revenue. You can be also the payment provider with our services to provide a system of BBPS.
For more details visit our website and request a free live demo of BBPS software.




3,241 total views, 9 views today