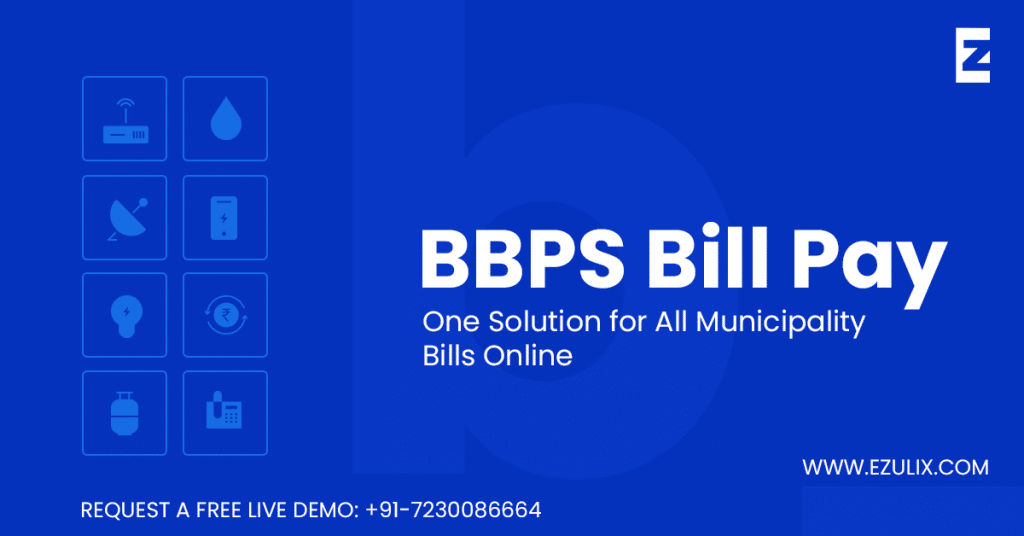 BBPS bill pay or Bharat bill payment system is a single platform for all online municipality bills. BBPS full form is Bharat bill payment system that allows any time, anywhere bill payment facility to billers. This is an online utility bill payment service with certainty, reliability and safety of the transaction.
BBPS bill payment service was started in India on 28 November 2014. This is an online interoperable system that was conceptualized by the reserve bank of India. All the payment for bills is driven under the eyes of the national payment corporation of India.
This was another step by India toward digitalization after the Aadhaar Based AePS service.
Bharat bill payment system creates a single platform that connects banks, and non-banks in the bill aggregation business with bills, payment service providers and retail bill outlets.
Which Bills You Can Pay through BBPS Bill Pay?
Bharat bill pay allows you to pay all following bills via different payment modes. This is an easy, fast and secured bill payment method online.
Electricity Bill Payment
Gas Bill
Water Bill
Insurance Premium
Loan Repayment
FASTag Recharge
Broadband Bill
LIC Premium
Postpaid Recharge
landline Recharge
Housing Society Bill
These are all municipality bills that you can pay through BBPS hassle-free and instant bill payment receipt or SMS. Now next question is comes in mind how a biller can do payment. I mean which are payment modes that BBPS supports billers for payment.
Which Are Multiple Payment Modes for Paying Bills through BBPS?
By using BBPS platform, billers can pay bills by all the following payment modes.
Internet Banking
Mobile Banking
UPI
Mobile Wallet
Credit Card
Debit Card
Aadhaar Based Payment
Cash
These are all online bill payment modes that can be used by bills to pay bills. These are all payment methods that provide easy, fast and secure payment facilities for bills.
How BBPS is Generating Business Opportunities in India?
Bharat bill payment is making biller's life easy and fast. Before BBPS, billers have to wait in long queues for paying bills but now after the introduction of BBPS bill payment, billers can pay all municipality bills online anytime, anywhere.
Along with this, it is generating business opportunities. Anyone can start an online utility bill payment business with their own brand name and logo and can make it a handsome source of Income.
To start BBPS business, you don't need any technical knowledge. Anyone can start with nominal training and can earn a handsome income.
To start an online bill payment business, you need BBPS software that allows you to pay all bills and you can earn a commission on all bill payments.
So if you are looking for a startup, BBPS business can be a good opportunity. Just you need to start a BBPS business is BBPS solution. There are many BBPS bill payment solution provider companies in India but I would like to suggest you choose the best BBPS software Development Company in India.
Which is Best BBPS Software Development Company in India?
Ezulix software is a leading BBPS software development company in India since 2015. We have a huge team of skilled and experienced professionals who are experts in developing a one-stop online bill payment solution.
Our new BBPS Bharat bill payment system is fully customized and based on innovative technology.
By using our advanced BBPS bill payment solution, you can pay all the above bills in a single click and can earn a commission.
We facilitate you b2b BBPS portal integrated with Bharat bill payment system API, BBPS mobile app and website.
You can create unlimited members in your downline as authorized bill payment merchants and can earn commission on each & every paying bill.
We provide you the complete authority of b2b BBPS panel through which you can operate the complete bill payment process, your members, your account, your team etc. Along with BBPS, we provide you with integrated web-based mobile recharge software in Ezulix BBPS panel.
Key Features of Ezulix BBPS Bill Payment System
These are all the key features of the Ezulix BBPS bill payment system that will help you to understand why you should choose Ezulix as your service provider.
Fully customized BBPS admin panel
The unique design of the member panel
Easy, fast and secure
Instant Activation
99.8% success ratio
Instant complaint resolve
Lifetime free technical support
You can integrate multiple APIs
These are all features of Ezulix BBPS panel.
Conclusion
So here we learned about BBPS bill payment system, its services, payment methods and how you can start your own BBPS business with the top BBPS admin panel Provider Company in India. For more details visit my website or apply for a free live demo.
FAQ
Who Owns Bharat Bill Pay?
Bharat bill payment system is an online one-stop utility bill payment solution that is started by the Reserve bank of India under NPCI (National Payment Corporation of India).
What is BBPS and How does it Work?
BBPS full form in banking is the Bharat bill payment system, This is an integrated online bill payment system that helps people in paying bills online anytime anywhere. Either you can pay bills through BBPS bill pay app or you can pay bills by visiting your nearby BBPS agent.
It works both the way online & offline. For offline they have created a network of authorized agents who offer bill payment services & earn commission in return.
What is BBPS Service?
BBPS is an RBI conceptualized online bill payment service that serves all municipality bill payment services to customers. This is an easy, fast and secure way of paying bills online hassle-free.
What is BBPS Status?
BBPS started initially with 5 categories that were DTH, electricity, water, bill and gas bill payment. Now it has been explored by adding on multiple categories like Insurance premium, loan repayment, FASTag recharge, landline recharge, postpaid recharge, housing society, LIC premium and broadband bill.
What is BBPS Customer Care Number?
If you have any issue regarding your bill or looking for any other information, you can directly connect to the Bharat bill pay corporate office on the following numbers. +91 2240508500
3,437 total views, 3 views today