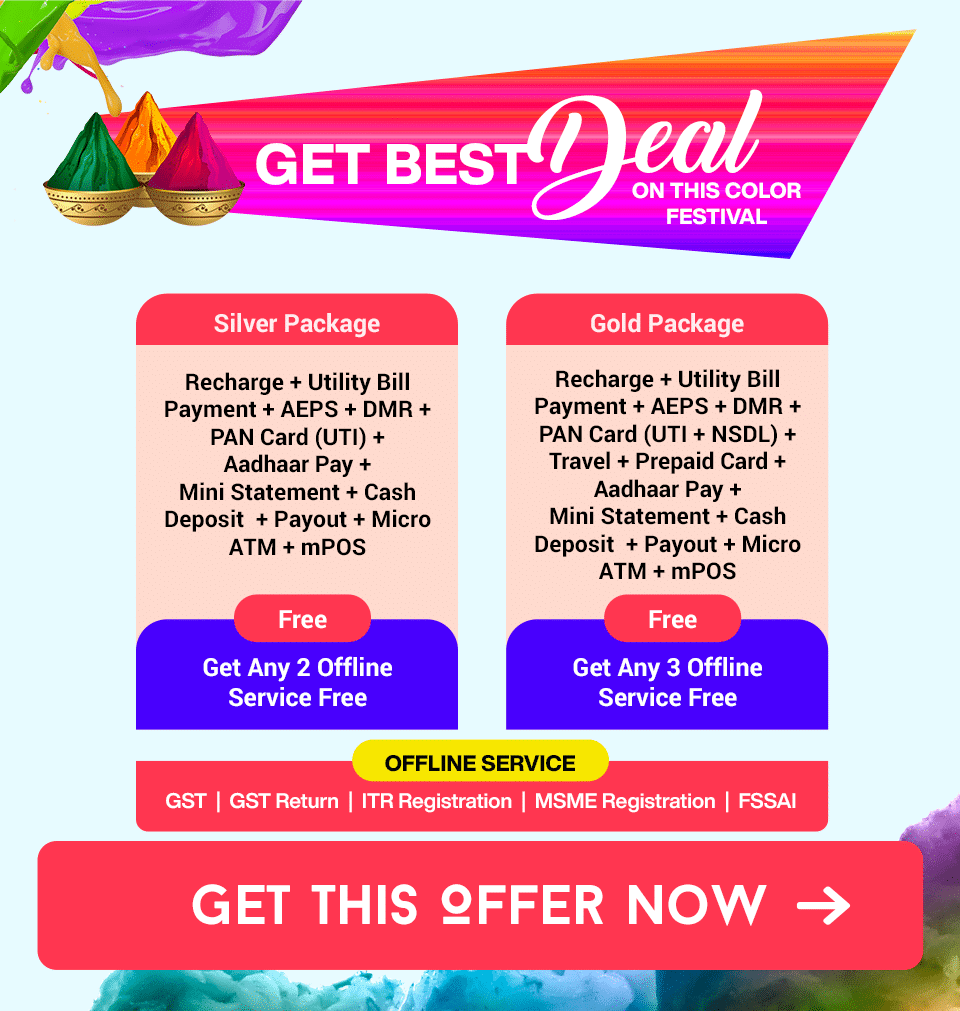 If you are planning to start your own b2b business and looking for opportunity then this holi may fill wonderful colors in your life.
Ezulix software is a leading b2b software provider company in India over the last few year . We provide all fintech services like AEPS, BBPS, multi recharge, money transfer, pancard (UTI and NSDL), all travel bookings (bus, flight, hotel), mPOS, micro ATM, prepaid card etc. Along with this we offer b2b, reseller and API solutions.
In short, We have all the services that is present today in market for b2b business.
Recently we have made a review and find that there is a number of people in India especially rural areas who are trying to start their own business. But sometimes due to lack or money, lack of knowledge and lack of opportunity, they are still waiting for a miracle.
To empower those all people, Ezulix has decided to provide them business opportunity.
On the occasion of Holi, we are offering wonderful business startup opportunity for all those people who are keenly desired to start their own business.
Here we are offering 2 packages named as Silver and Gold.
Ones can choose any one package as per their requirement and can get exciting offers.
We provide few offline services as-
GST
GST Return
ITR Registration
MSME registration
FSSAI
so we provide all the offline services for that you have to pay earlier.
But on the occasion of Holi festival, we are offerig wonderful offer. So here we will understand this offer here.
Silver Package
In the silver package we has all the b2b services except travel adn prepaid card. By using silver package, you can offer all following service to your members-
Mobile Recharge Software
By using silver package you can offer multi recharge services to your members and can earn commission on all recharges. By using mobile recharge software, you can recharge all-
Prepaid Mobile Recharge
Postpaid Mobile Recharge
Landline Mobile Recharge
Data Card Recharge
DTh Recharge
Aadhaar Enabled Payment System
By using aadhaar enabled payment system, you can offer all basic banking services to your members and can earn a commission. By using our AEPS software, you can offer-
Cash Deposit
Cash Withdrawal
Balance Enquiry
Mini Statement
Aadhaar Pay
AEPS Payout
Xpress Payout
Micro ATM
So you can offer all the services using ezulix AEPS portal.
Money Transfer Software
By using money tansfer software, you can offer all in one money transfer service to your members through which they can transfer money in any bank.
Pan Card (UTI)
By using pancard UTI, you can create unlimited authorized pancard service providers all over India and can earn commission on each and every pancard.
Utility Bill Payment
By using utility bill payment service, you can provide all in one online bill payment service to your members and can earn commission on each and every bill payment service.
Water Bill
Gas Bill
Electricity Bill
DTH Bill
Broadband Bill
Postpaid Bill
Housing Society
Loan repayment
FASTag
Insurance Premium
LIC Premium
You can pay all the bils using our BBPS service. So by using our silver package you can offer all above services. Along with this, with this silver package, we provide you opportunity to choose any 2 offline service that you can add-on in your panel and can use free lifetime.
Gold Package
In this gold package, we provide you all the service that we have offered you in the silver package. Along with this, we add-on NSDL pan card, prepaid card and complete travel portal in this package. By purchasing the gold package, you can add-on 3 offline services in to your b2b panel and can attract more customers.
If you want to learn more about packages or business, visit my blog or APPLY FOR A FREE LIVE DEMO NOW.
5,050 total views, 3 views today