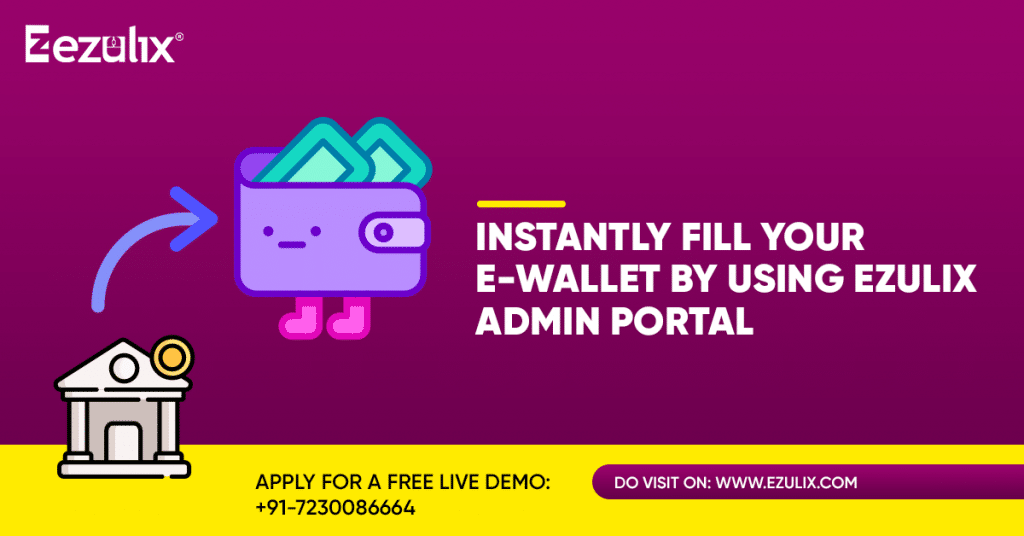 Earlier agents had to requested admin to add money into the wallet and after approving the request fund added into agent's wallet. It was a time-consuming process. To resolve this problem, Ezulix team developed a payment gateway system through which now agents can directly add funds in their wallet directly from their bank account in Ezulix admin portal.
Is it exciting?
Obliviously this is most demanding feature now a day in market.
Our survey team talked to all our clients about their services and what they need to add-on. After thousands of reviews, most of the agents demand for this feature. They said some time due to late approval by admin for a request they are losing customers. So to resolve this problem Ezulix has developed this payment gateway system. Now all our existing customers are using this amazing feature to transfer funds from bank to e-wallet instantly and can offer all service using an e-wallet.
So if you are planning to start your own business as admin and looking for best service provider then Ezulix Software can be a good option for you.
Who Can Start B2B Business with Ezulix Admin Portal?
To start b2b business with Ezulix admin portal, you don't need to be technical or well qualified. You can start this business with a small investment and zero technical knowledge. We provide you with manual training of our panel which is more than enough to start and run this business smoothly & successfully.
What I Need to Start B2B Business?
To start b2b business in India, you required a b2b admin portal. B2B admin portal is a software solution integrated with multiple software services. It offers you an online platform to do business online.
In simple language, you can offer services to another business and can earn commission in return of It.
We provide you standard b2b portal with all following services. You can create unlimited members in your downline as –
Master Distributor
Distributor
Retailer
And retailers provide all those services to customers and profit distributed from bottom to top.
Which Services I Can Offer by Using Ezulix Admin Portal?
By using Ezulix admin portal you can offer all following services to your members and can earn commission-
Mobile Recharge
By integrating mobile recharge software in admin portal, you can offer mobile recharge services to your members and can earn a commission on each and every recharge. By using our new recharge software, you can offer multi recharge services like prepaid, postpaid, landline recharge, DTN recharge and data card recharge services to your members using a single software.
You can offer all the service using e-wallet.
AEPS Service
AEPS full form is Aadhaar enabled payment system. It is started by NPCI to penetrate banking service in rural areas. We provide you updated AEPS software with all new AEPS services. You can earn the highest commission on all the services. Its new advanced features like Xpress payout, aadhaar pay helps you to boost AEPS transactions as well as profit.
Bharat Bill Payment System
Bharat bill payment system allows you to provide all bill payment service under a single roof. You can offer all bill payment facility to your members and can earn a commission on each and every recharge.
You can use this service using e-wallet.
Money Transfer
Money transfer software allows you to offer safe and secure money transfer facility from one bank account to another bank account. We have developed a money transfer application through which your members can transfer money to all the banks that support NEFT/IMPS mode of banking.
It can be done through e-wallet.
Travel Portal
By using our travel software you can start your own travel agency and can offer all domestic and international bus, flight, and hotel booking facility to members and can earn a commission.
Except AEPS, all are the services which you can use through e-wallet.
Conclusion
So here we learn what is b2b business, who can start b2b business in India with Ezulix admin portal and which services you can offer using our advanced admin portal.
Along with this, we have talked about the amazing feature payment gateway which allows you, members, to instantly fill their wallet directly from the bank account without an admin portal.
For more details about b2b business visit my blog or apply for a free live demo now.
4,495 total views, 3 views today