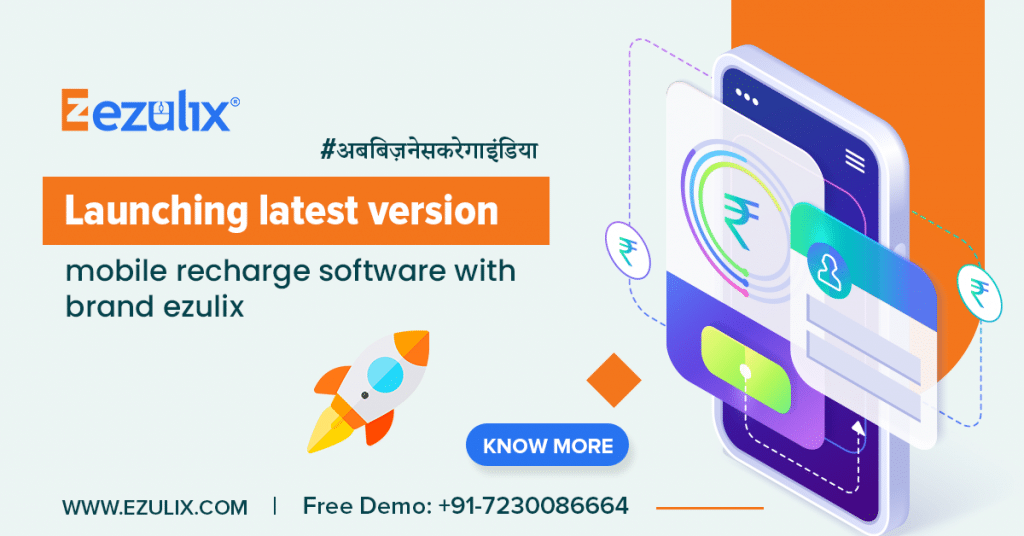 Introducing the Ezulix mobile recharge software – a cutting-edge solution revolutionizing the way you recharge your mobile devices. With its user-friendly interface, robust security features, and seamless integration options, our software simplifies the recharge process, ensuring fast and efficient transactions. Experience the convenience of multi-operator support, advanced reporting, and customizable features, all aimed at enhancing your mobile recharge experience.
So If you are planning to start your own b2b mobile recharge business as an admin and searching for the best recharge admin panel this is for you.
7 Key Features of Latest Recharge Admin Software
The latest version of Ezulix mobile recharge software comes packed with exciting features to enhance your recharge business experience. Here are seven key features:
Gain valuable insights into your recharge business with comprehensive reports on transactions, revenue, customer behavior, and more.
A dedicated technical support team is always on standby mode to help, offering flexibility and convenience to your business.
Now you can integrate multiple recharge APIs into your b2b recharge software and can expand your business capabilities and reach seamlessly.
Enhanced Security Measures
Ensure the utmost security with advanced encryption protocols, protecting sensitive user data and transactions.
Experience an intuitive and easy-to-use interface, enabling smooth navigation and hassle-free recharge processes.
Tailor the software to your specific business needs with customizable features, allowing you to create a personalized recharge experience. Admin can make changes based on business requirements and easy business management.
Based on the past 3 years recharge report states, the latest version of recharge admin software facilitates you a 99.7% recharge success ratio.
By starting your single SIM multi-recharge business with Ezulix's upgraded online recharge software you can unlock these advanced features and can take your business to new heights.
How Latest Mobile Recharge Software Can Support the Growth of Business?
The mobile recharge software offered by Ezulix is not just a tool for recharging mobile devices; it also serves as a powerful catalyst for business growth. Here are some ways in which the software can support the growth of businesses:
Expanded Customer Base
The software allows you to cater to a wider customer base by providing all-in-one mobile recharge services. This helps attract new customers who may have different needs and preferences, leading to increased market penetration and customer acquisition.
Enhanced Customer Retention
By offering mobile recharge services, you provide an added convenience to your existing customers, making it more likely for them to stay loyal to your brand. This improves customer retention rates and strengthens customer relationships.
Cross-Selling Opportunities
The mobile recharge software opens up opportunities for cross-selling. You can add on multiple fintech services to your recharge admin portal like AEPS service, bill payment service, and travel booking services, and can boost your income by offering multiple services to your exciting recharge business customers.
Brand Differentiation
As I explain you by offering multiple services under a single solution, you can create a unique brand in the market and can capture a big part of the industry.
Scalability and Flexibility
The software is designed to handle a high volume of transactions and can accommodate the growing demands of your business. It offers scalability and flexibility, allowing you to expand your operations and serve more customers without technological limitations.
Business Insights & Analytics
The software provides valuable data and analytics on customer behavior, transaction trends, and revenue patterns. This information can be leveraged to make data-driven business decisions, optimize marketing strategies, and identify areas for improvement and growth.
By leveraging the All in one recharge software, businesses can tap into new revenue streams, expand their customer base, improve customer retention, and gain valuable insights for strategic decision-making. It serves as a catalyst for growth, empowering businesses to thrive in the competitive market.
Streamlines Process of Multi-Recharge Business
So have you planned to make a startup in the recharge industry and looking to start a mobile recharge company as admin, this is the best solution for you.
To start a single SIM multi-recharge business you need a b2b recharge software, an internet connection, and a laptop/mobile, that's it.
Ezulix provides you with standard mobile recharge software integrated with the highest commission mobile recharge API and mobile recharge app.
You just need to complete all legal formalities to start a company.
Our team provides you with manual training of mobile recharge systems so that you can use it efficiently.
You can create multiple recharge distributors, master distributors, and retailers all over India and can earn commission by offering them multi-recharge services.
Admin has complete control of the panel, he can set commission structure, check daily recharge & profit, and can provide offers to motivate his team.
Conclusion
So here we discussed how you can start your own mobile recharge business with India's top mobile recharge software development company and how its advanced recharge software can help you in your business growth.
I hope this blog will help you to get your answer. For more details visit our website or request a free live demo.
7,688 total views, 1 views today