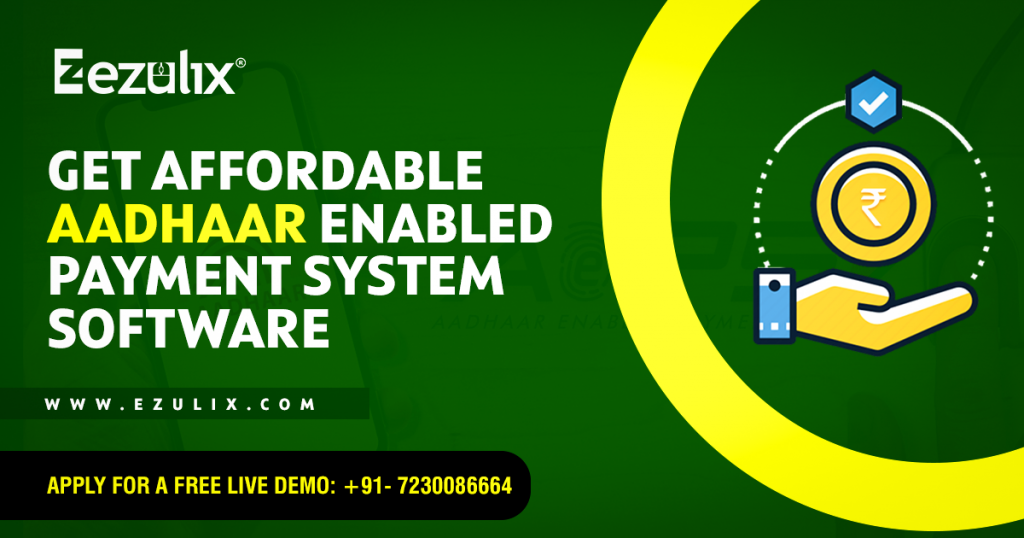 Ezulix AEPS Software is used to provide basic bank services to the people. The emerging use of the Aadhaar Enabled Payment System (AEPS) is bringing various entrepreneurial and employment opportunities in India. Ezulix provides you with updated and cost-effective AEPS Software in India to start your own business.
Let's learn about AEPS in detail.
What is Aadhaar Enabled Payment System or AEPS?
Ezulix AEPS Software is a payment service empowering a bank customer to use basic bank transactions without going to a bank or ATM. It is a new age banking service that has been approved by the Reserve Bank of India.
A Customer can access banking services through Aadhaar Number Authentication. AEPS allows transactions using biometric authentication that identifies the Aadhaar number which is linked with the corresponding bank account.
It is a unique and innovative way of accessing bank services that allow retailers or merchants to collect payments and turn his/her small shop into mini ATMs. Ezulix provides you with updated and high-tech AEPS software with an Integrated AEPS API solution.
AEPS enable four types of Banking Transactions Services-
Using Ezulix AEPS software, you can provide a money withdrawal facility on your own retail store to your walk-in customers. Without visiting the bank any customer can withdraw money from their respective bank account.
Customers need to visit any nearby AEPS service provider and simply provide their Aadhaar number, bank name, and thumb or finger impression. There is no need for a Debit or Credit card.
Cash Deposit
In a retail store, a customer can use AEPS for depositing money with an Aadhaar card. It's easy to get money through AEPS anytime by providing an Aadhaar card number, bank name, and biometric authentication.
There is no need to worry when banks and ATMs are not available at nearby places. A customer can deposit cash through AEPS anytime at a nearby shop.
Balance Enquiry
A walk-in customer can check his/her bank account balance at a retail shop. There are no charges to use these banking services through AEPS.
Mini Statement
An individual can check the last 10 transactions performed from their corresponding account through AEPS. Just provide the Aadhaar number and bank name followed by fingerprint authentication.
You might be thinking about what benefit a retailer has for providing AEPS services to customers. We will tell you how many benefits a retailer/merchant enjoys through AEPS.
Benefits of using Ezulix AEPS Software
At Ezulix, our AEPS Software enables you to carry out cashless transactions in an effective manner. With Ezulix AEPS portal, you will be able to perform several bank transactions for your customers. The benefits that Ezulix grants to its customers are as follows:
Xpress Payout Feature- You can settle your fund online through the Xpress Payout feature and can transfer funds from the AEPS wallet to the main account 24*7.
Quick Service activation– You can apply for Ezulix AEPS software then your service activation is processed in no time. You will be ready to start the AEPS service within days and enjoy huge profits.
Instant Credit of commission received– While providing AEPS services to the customers, the commission earned and received are high which gets instantly credited to your bank account.
Aadhaar Pay Feature– The withdrawal limit through AEPS is fixed at 10,000 Rs. per day. Using the Aadhaar Pay feature customers can withdraw more than 10,000 Rs. per day.
High Success Ratio- Ezulix AEPS software provides you 99.5% success ratio. Consequently, there are rare chances of transaction failure.
Increase your sales– When a customer visits your retail shop he/she can also make payment through AEPS for any item purchased.
Become an ATM– Turn your small shop into a mini ATM through AEPS and allow anybody to withdraw money through an Aadhaar card and Biometric Authentication.
Attractive Commission to the distributor on every successful transaction.
Best Customer Support even throughout the time you use Ezulix AEPS Software.
Faster Complaint Resolution with our support team available for customers anytime.
Above all, Ezulix AEPS Software eliminates the threat of any fraud and non-genuine activity. The reason is that AEPS is based on the Aadhaar Number and biometric authentication of an individual. Here are the top 5 AEPS features that make Ezulix stands in-crowd.
Scope of AEPS
The government introduced AEPS  with the view of speeding the inclusion in the country. Subsequently, the main aim is to promote a cashless society in India.
People in rural areas are adopting AEPS in an effective manner. Because of less availability of Banks and ATMs in rural areas, AEPS is the most helpful service to provide bank services.
Retailers never charge any fee to perform transactions on AEPS on any retail shop. Moreover, people do not need to mention their bank account information to execute any transaction.
Ezulix has structured AEPS in a way that enables easy interoperable bank transactions to be performed with our support.
When the Aadhaar card was launched in India, all individuals were requested to provide their biometric data including fingerprint and iris images. However, biometric information is unique to each person and can't be duplicated.
Most importantly, AEPS uses the Aadhaar number for authentication as the biometrics linked with the Aadhaar card works as a pin or code to perform bank transactions. Like a customer generates a pin for debit or credit cards, similarly, biometric authentication acts as a pin.
Why Aadhaar Payment Enabled System is a Big Business Opportunity?
The purpose of Ezulix AEPS Software is to serve that section of society that is not aware of digital payments. AEPS is a big business opportunity due to the below-mentioned reasons-
India will require at least 2 Crore AEPS service providers in place of bank branch and ATM.
The cost of opening a bank branch or ATM is much higher than starting an AEPS service.
AEPS is a long term business because bank transactions will never be going to stop.
Since, the low investment needed as compared to other businesses, anyone can start an AEPS business.
Banks are already looking to meet the target provided by RBI, they want networks with a huge reach.
2.28 Lac ATM machines are not enough to cover our population across PAN India. Therefore, the use of AEPS will increase day by day.
The increasing numbers of AEPS service providers show that banks want more and more individuals who have the right set of technology, as a result, the need for AEPS service providers will increase.
So, we have discussed enough the scope, benefits, and need of AEPS. It is bringing various business opportunities for people. There is no need for any technical knowledge or any specific educational degree. Therefore, it is the best startup for everyone.
All you need is a device with an active internet connection and an Aadhaar card linked with a respective bank account.
Conclusion:
In Conclusion, the Aadhaar Enabled Payment System is useful and beneficial for both customers and retailers. In addition, retailers enjoy high commission and low-cost business startups.
Due to fewer bank branches and ATMs in India, AEPS is emerging in rural areas. As a result, the scope of AEPS is very large and it is a long term business.
If you are planning to start your own low-cost AEPS business then contact us today and Apply for a FREE LIVE DEMO.
2,899 total views, 1 views today