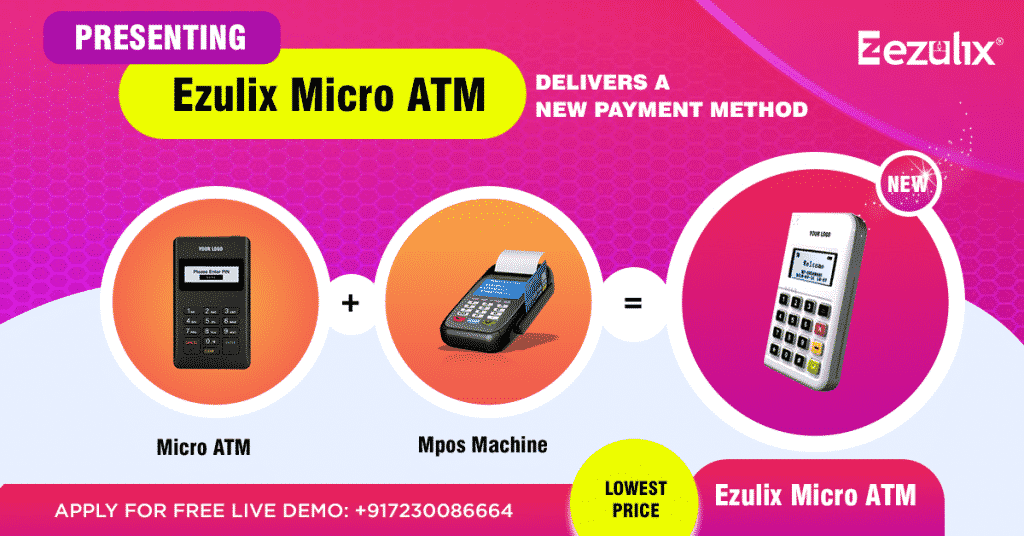 Ezulix Software is launching a new updated micro ATM which is a combination of mATM and mPOS machines. Payment methods are continuously growing with the technology age.
Earlier we were only dependent on cash transaction methods. We had to carry cash money to pay for goods and services which was a little bit risky and a slow process. We were totally dependent on banks and ATMs for the transaction.
But after the cashless India (Digital India) project the Indian government is emphasizing cashless transaction methods to create a cashless society in India.
RBI (Reserve Bank of India) & NPCI (National Payment Corporation of India) is continuously working on cashless transaction methods to make it easy, safe, and fast and advanced. NPCI control all the banks and financial institutes for transaction methods.
We are India's no. 1 micro ATM service provider company over the last few years. Our skilled and experienced professionals team developed micro ATM service with high security so that you can perform easy, fast and safe banking transactions. Along with this, we have kept attention to its user-friendliness, easy installation and smoothness. 
Ezulix Micro ATM Delivers a New Payment Method
Ezulix advanced micro ATM offers a new payment method for your business. Our new micro ATM machine is a combination of mATM and mPOS machines.
So if you still using mPOS and mATM separately, then this Ezulix micro ATM can help you to offer all services by using a single machine.
By using Ezulix micro ATM, you can offer all the features of mATM and mPOS machines. Now you don't have to use different devices to offer AEPS service and accept payment from customers.
You can offer both the features by using the same machine. Although you can offer all the features of mATM and mPOS using the same Ezulix micro ATM machine, it reduces its cost.
You can get this micro ATM machine, at a price that is lower than mATM price.
Features of Ezulix Micro ATM Machine & Software
So here we discuss all the new features of the Ezulix micro ATM. But before this, I would like to explain to you the work of mATM and mPOS.
This is for those who are really new in this industry and want to add new features to their business.
Basically, mATM or mini ATM is used to withdraw cash through a debit card. It is similar to the ATM that we use.
Through AEPS you can withdraw money using an Aadhaar card and fingerprint authentication. In mATM, you can withdraw money using a debit card and PIN for authentication.
As similar as AEPS, you earn a commission in each & every transaction. If you want to learn more about it, you can visit here for a complete guide on micro ATM. 
mPOS software is also the best cashless payment method which is basically used by merchants to accept payments.
Here you can use all credit, debit, and prepaid cards to pay. Mostly it is used in malls to eliminate long queues at the checkout.
Now by using Ezulix micro ATM, you can offer both the machine features using this single device.
Now you can withdraw money as well as you can accept payments. Here we discuss features of the Ezulix micro ATM machine which make it more special.
It is easy to use, fast and safest payment method
Accept EVM chip & PIN
Magstripe and NFC payments Bluetooth connectivity
USB data transmission compatible with iOS & Android system
PCI PTS 5.x certified
Cost-effective & slim design
Multipurpose machine with a single software
So these are some features of a new micro ATM machine that make it more potential and usable for payment.
How to Boost AEPS Business using Ezulix Micro ATM?
If you are running your own AEPS business but still waiting for an upward sales graph then this can help you.
Using Ezulix micro ATM can boost AEPS transactions & your brand visibility in the market.
Today a big portion of people carry debit cards in their pocket instead of Aadhaar cards. We provide you with advanced AEPS software with free micro ATM software service.
By using our advanced Micro ATM, your members can offer cash withdrawal services as well as cash acceptance services which result in the highest AEPS transactions.
By offering multiple services at the same place, you can attract more customers.
Conclusion
So here we learned about Ezulix's advanced micro ATM and its features. This is the latest service in the market which we are launching.
You can boost your business instantly by adding on this feature to your AEPS portal.
Hurry up, don't miss this wonderful opportunity. Ezulix software is offering this advanced micro ATM at the lowest price in the market. For more details visit my blog or directly contact our executives for a free live demo. 
9,363 total views, 1 views today