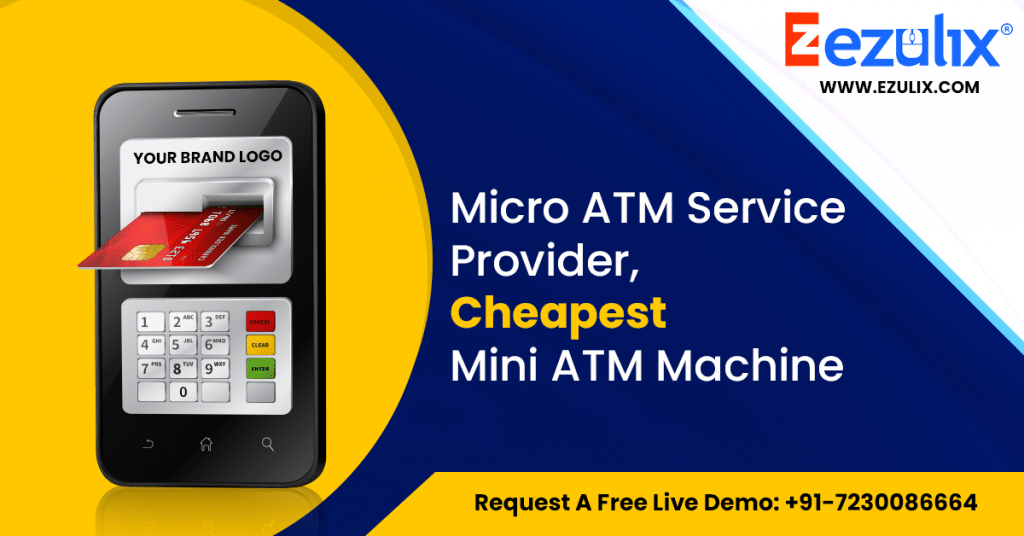 So you are looking for a micro ATM service provider to start your own b2b fintech business? If Yes, You are at the right place. We are India's best micro ATM service provider company since 2015.
As we are experiencing, technology is growing so fast and it is affecting our financial activities in a very positive way. In short, we can say technology is helping us to perform easy, fast and safe financial transactions.
Before 2010, when we are only depending on cash, today we don't need to carry cash anywhere. There are multiple options available that allow us to perform banking transactions. Micro ATM is one of them that is changing the land of banking.
India's is a very big country and more than 74% of people still live in villages. If we talk about statics more than 50% of people don't use banking and are unaware of digitalization. To bring all people at the same banking platform, the Indian government is continuously working on financial methods with the help of technology.
AEPS service and micro ATMs are examples of these initiatives that are helping people to use banking services at the doorstep and also contributing to the Indian economy.
Difference Between AEPS and Micro ATM
AEPS stands for Aadhaar enabled payment system that allows all bank customers to use basic banking services while micro ATM is a compact device that works on the principle of traditional ATM machine.
To use AEPS service customers have to provide unique Identity numbers while in micro ATM customers can perform transactions using a debit card.
AEPS service allows you to perform all basic banking services like cash deposit, cash withdrawal, balance enquiry, mini statement, fund transfer, aadhaar pay and express payout while micro ATM allows you cash withdrawal, mini statement and balance enquiry.
Both micro ATM and AEPS service is regulated and controlled by NPCI and RBI.
Last but not least you earn commission on each and every banking transaction through AEPS and micro ATM.
What is Micro ATM Service?
Micro ATM is a compact, portable device that can be used to perform banking transactions. Today thousands of business correspondents are using mATM machines to accept payment at Kirana stores, retail stores etc.
Micro ATM allows customers to perform instant banking transactions. It works like AEPS but it uses the debit card to perform the transaction. A bank correspondent can use this easy to handle micro ATM machine to provide cash withdrawal service as well as to accept payments.
NPCI invented this micro ATM machine to deliver banking services to all those areas where banks and ATMs are not available.
It is cost effecting, compact and portable device that fulfils all basic banking needs in rural areas.
So If you are planning to start your own b2b fintech business, this decision can help you to grow in the coming time and micro ATM can help you to achieve it.
Best Micro ATM Service Provider in India
Ezulix software is a leading AEPS service provider company in India over the last few years. Our skilled and experienced professional's team developed advanced AEPS software with all banking services and new features.
Along with AEPS software, we are the best micro ATM service provider since 2015. Along with micro ATM machines, we provide you micro ATM service in web and mobile applications.
We have used innovative technology and latest techniques to develop micro ATM service to make it more potential, easy to use, fast and highly secured.
You can easily install and integrate micro ATM machines with software and can use banking services. You can use either web or mobile app to operate micro ATM machines.
We provide you advanced micro ATM machine with add-on mPOS features. It means now you don't need to buy another machine to perform mPOS. You can use both services in a single device.
Conclusion
So here we learned what is micro ATM machine, the difference between aeps service and a micro ATM machine and who is the leading micro ATM service provider in India.
I hope this article will help you to understand micro ATM machine.
For more details visit my blog or apply for a free live demo.
6,632 total views, 1 views today