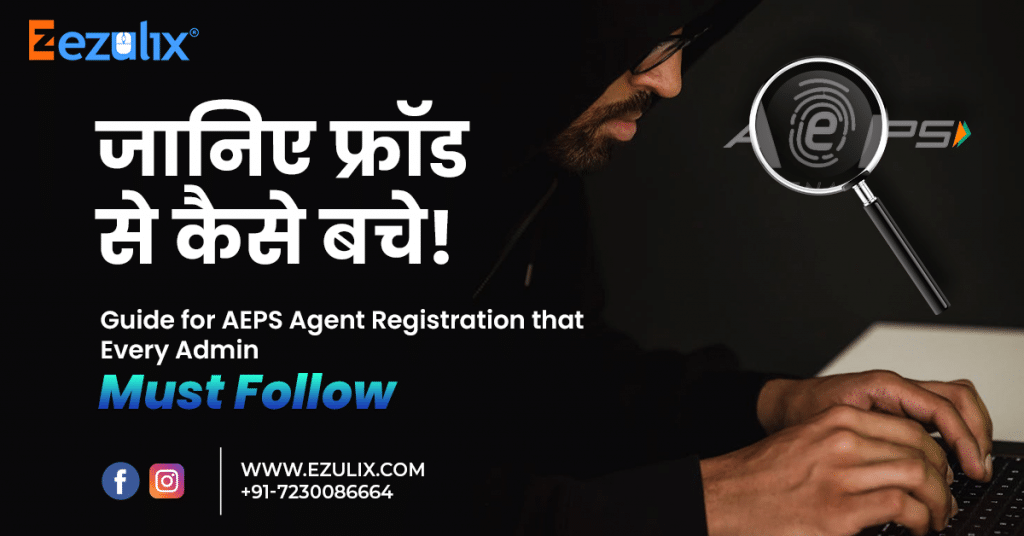 So today here we are with another most important topic that every admin must focus at the time of AEPS agent registration.
Aadhaar enabled payment system is a digital platform that provides banking services using unique identity numbers. Today more than 50% population is using banking through AEPS service.
Although AEPS is an online platform that provides digital banking services, so we should be concerned about its security.
To keep it safer and secure, Ezulix has developed few more security parameters that help it to make a highly secure AEPS portal.
So here we will learn about AEPS agent registration, how an agent can register for AEPS service and at last which points the admin must follow to avoid unwanted activities in the panel.
So It gonna be a great informational article that will surely help you to run your AEPS business smoothly and safely.
Without wasting time, I come to the point.
What is AEPS Agent Registration?
To use the AEPS service in the admin portal, an agent must have to register on the admin portal to use the AEPS service, this process is known as AEPS agent registration.
In the case of other services like mobile recharge, agents just have to register on admin portal and he gets ID password of panel.
He can use services by just login into the panel. But in the case of AEPS service, he has to go through multiple security gates that make sure, registering agent is a genuine person.
Step by Step Guide for AEPS Agent Registration Free
So If you are planning to start your own AEPS business with the safest and secure AEPS panel, I would like to suggest you to choose Ezulix AEPS.
Ezulix software is the best AEPS service provider company in India over the last few years. We have a huge team of skilled and experienced professionals who are experts in developing the best and secure AEPS software in India.
Here we will go through step by step guide to start AEPS service through AEPS agent registration.
So here we have to pass 3 security gates to complete AEPS agent registration.
Offline KYC
On-Boarding KYC
eKYC
So these are three security gates you have to pass as an agent to start AEPS service with Ezulix admin portal.
Off-Line KYC
In this offline KYC, agents have to submit all personal details like first name, last name, mobile number, mail ID, and scan copy of Aadhaar card and PAN card.
All the documents forward to the admin where he can review all documents and can approve or disapprove AEPS service requests.
On-Boarding KYC
It is like similar to off-line KYC, here the agent has to fill all the above details again to process the KYC. Here agent doesn't have to submit scan copy of documents, he just has to fill in the details.
eKYC Process for ICICI AEPS Registration
This is last but not least, After completing this process, agents allow to use the AEPS service.
To activate AEPS service through ekYC, the agent has to fill aadhaar card number and has to submit it.
An OTP comes to the registered mobile number that the agent has to submit with fingerprint authentication.
If the fingerprint is authentic, the details of agents will come on screen. You can also save this eKYC report for further use.
So bypassing an agent through these three security gates, we can make sure that the agent's ID is genuine and he is the right person to use AEPS service.
What Steps Every Admin Must Follow to Avoid AEPS Frauds?
After completing all security parameters, there is a number of AEPS frauds are taking place now a day. To avoid all these unwanted activities with Ezulix partners, we have launched few guidelines that you must follow If you want to run your AEPS business successfully.

By following all about guidelines you can avoid AEPS frauds 100% because If you have all details, complete the KYC of your agent with his physical location, he will never attempt this type of activity.
Last Words
So here I am wrapping up this article with genuine and informational content that you must follow as an admin. If you have any query regarding AEPS service or you are planning to start your own AEPS business and are confused about the best AEPS company, must visit my blog or apply for a free live demo.
4,781 total views, 3 views today