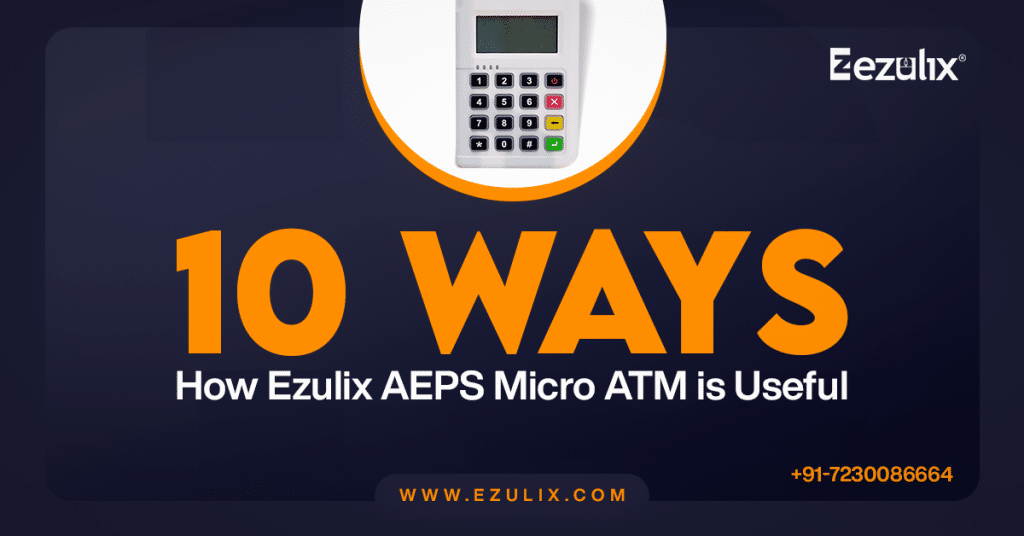 Ezulix's AEPS Micro ATM allows customers to perform basic bank transactions using their debit or credit cards. There is no need to carry cash when Micro ATM is available.
More than 50 crore of the Indian population has bank accounts in several banks. Banks are providing easy banking services through providing debit and credit card to their customers.
Micro ATM is one of the AEPS service, provided by Ezulix. Through which customers can access banking transactions without visiting banks.
All a customer need is a debit or credit card and pin as an authentication. Micro ATM is used by retailers to deliver basic bank services. We are India's top micro ATM service provider over the last few years.
These are low-cost devices that are connected to banks across the country. The retailer providing the Micro ATM service acts as a banker for the customer.
AEPS Micro ATM machine is a new method that provides a complete payment solution. Only debit or credit card of a customer is enough to perform transactions. These are plastic cards linked to customer's bank account.
While using this device, retailers can earn a commission on every successful transaction along with providing services.
Aadhar Micro ATM also works on the same mechanism, the only difference is it accepts aadhaar card payment instead of debit or credit card payment.
Let us talk about the working of Micro ATM.
How AEPS Micro ATM Works?
AEPS micro ATM works on an easy mechanism, operated by banks. Customer can use debit and credit cards provided by any of the bank in India.
As we have discussed above, Micro ATM is connected with banks. When a customer swipe debit or credit card, a pin has to be entered for authentication.
After successful authentication bank receives a notification and the amount is debited from customer's bank account. After every transaction, a payment slip is generated and given to the customer.
Micro ATM machine is chargeable, can be charged anytime with a cable provided with machine. This is how Micro ATM works.
Now you might be wondering about the AEPS Micro ATM Price. Don't worry this machine is totally affordable as Ezulix offers Micro ATM at a reasonable price.
Is there any benefit of using a Micro ATM machine?
Of course, these machines are introduced to provide ease to customers for using bank services. Below are the benefits of Micro ATM.
Benefits of AEPS Micro ATM Machine
Micro ATM allows customers to perform basic bank transactions using debit or credit card, no need to visit bank or ATM.
According to Reserve Bank of India, payment done through debit or credit card is authorized by banks.
Authentication is also done by banks via pin inserted by a customer after swiping the card.
It helps in encouraging cashless society in India as well as instant payment options.
Retailers provide these services in their shops to provide facilities to customer and they can earn attractive commissions on every transaction.
There is no service charge applied by banks on using cards for making payment through micro ATM.
Cost of micro ATM is lower than installing an ATM machine performed by an operator. It also eliminates the cost of operator appointed in ATM branch.
Micro ATM offers banking services including cash withdrawal, balance enquiry and mini statement.
Most helpful for rural areas where Banks and ATMs are not easily available.
Ezulix will be adding more features in Micro ATM including mPOS in the upcoming days.
These are the reasons why micro ATM is useful. As it provides basic bank services with lots of benefits to customers as well as retailer.
Conclusion
Micro ATM is very helpful in eliminating the problem faced by people due to the lack of bank branches and ATM. It provides instant bank services to customers.
Any retailer can offer bank services through Micro ATM because there is no technical knowledge needed to use this device.
It is a low-cost device available at Ezulix with advanced and updated features. Contact us now to own Micro ATM. You can also apply for a FREE LIVE DEMO.
4,169 total views, 1 views today