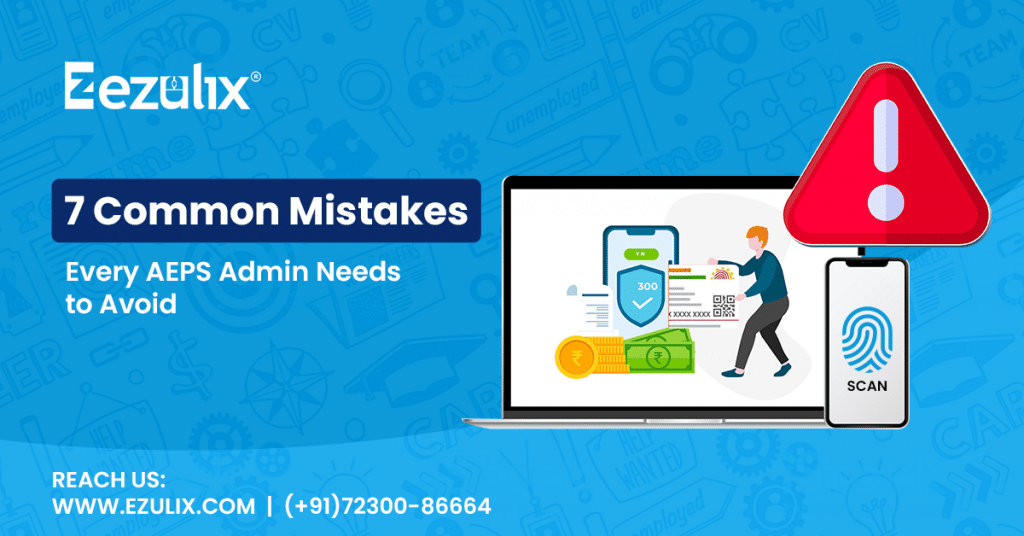 After demonetization and Covid-19, India is moving towards a cashless society quickly. These two crises encouraged digital payment in India. People are also feeling comfortable with these changes in the banking system. AEPS has played the biggest role in this change.
Aadhaar enabled payment system is a banking formula that provides banking in rural areas. A huge population is using Aadhaar banking today and contributing in the economy.
From a business perspective, AEPS cash withdrawal business is most common between youngsters and new entrepreneurs now a day.
Not only in rural areas but also in semi-urban and urban areas, people are showing interest in starting AEPS admin portal and making money.
Today I am here with the top 7 common mistakes of admin that can spoil your business. So If you are an AEPS admin or planning to start an AEPS business, this article can be fruitful for you.
So without wasting time I come to the point.
7 Common Mistakes That an AEPS Admin Must Avoid
Don't offer commission more than service provider
Never Ever Share Confidential Credentials
Don't Add Any Member Without KYC
Don't Make False Promise
Avoiding Your Member can Harm Your Business
Keep Updating Your Business
Don't choose Service Provider Wisely
So these are a few mistakes that can spoil your business and can stay you in trouble. Make sure you are avoiding all these mistakes.
Don't Offer Commission More Than Service Provider
This is the very common mistake most digital portal admin do. This is a very tricky commission strategy that not everyone can implement. People just copy others and get themselves in trouble after a few months.
So If you are new in this business, never ever offer a commission more than you get to your service provider.
Few very experience admin does this but they cover this loss into to another service b2b recharge, BBPS etc.
This is a two side sword, either it can make you profit or can harm your business.
So play it wisely.
Never Ever Share Confidential Credentials
A few times I have to listen, the admin shared confidential credentials, this is really unacceptable for business security.
AEPS is related to the banking business and RBI also keeps advertizing that never ever share your confidential credentials like OTP, user name and passwords with anyone.
So keep in mind and never ever share any document that can fall you as well as your business in trouble.
Don't Add Any Member without KYC
If you are greedy and want to add more and more members in your downline without verifying them, don't do this?
There are many frauds in the market who keep eyes on admin who doesn't verify before adding.
Make sure you have all KYC of all members who are in your down line. In case If any fraud comes, this KYC can make your task very easy.
Don't Make False Promise
If you are looking to keep your business far, make sure you are following business ethics.
Don't make any false promises to keep adding your members. By doing this, you can do this once but you will lose them forever.
So never ever make any false promise in your business.
Avoiding Your Member Can Harm Your Business
This is a very very common mistake that most of the businesses do and get lost. Your member or customer is oxygen for your business and what will happen If you lose your oxygen source.
Exactly same happens in business. You must keep connected with your members and keep updated with the issues and positives of your portal.
So That you can make better your service that helps you to keep your business growing.
Keep Updating Your Business
Evolution is the need of success. If you want to get success in anything, you must have to grow.
People start a business with AEPS and are stuck in this. This is the reason they were never able to explore their market.
Keep moving can reach your this final destination. Keep updating your business, If you want to see your business into the next level.
Choose Service Provider Wisely
Most of the new entrepreneurs do this mistake and get stuck in middle. AEPS banking is a service business and you need your service provider every day. Before reaching to any decision check out everything about a company, its credibility in the market as well as all key features of AePS software.
So make sure you are choosing your AEPS service provider wisely.
There are many AEPS provider companies in India but I would like to suggest to you Ezulix Software, one of the best AEPS service provider companies in India.
Conclusion
So these are all the mistakes that most of the admin do and face problems. If you are thinking to start an AEPS business, this article will help you to run your business smoothly and successfully. For more details visit my blog or apply for a free live demo.
3,006 total views, 3 views today