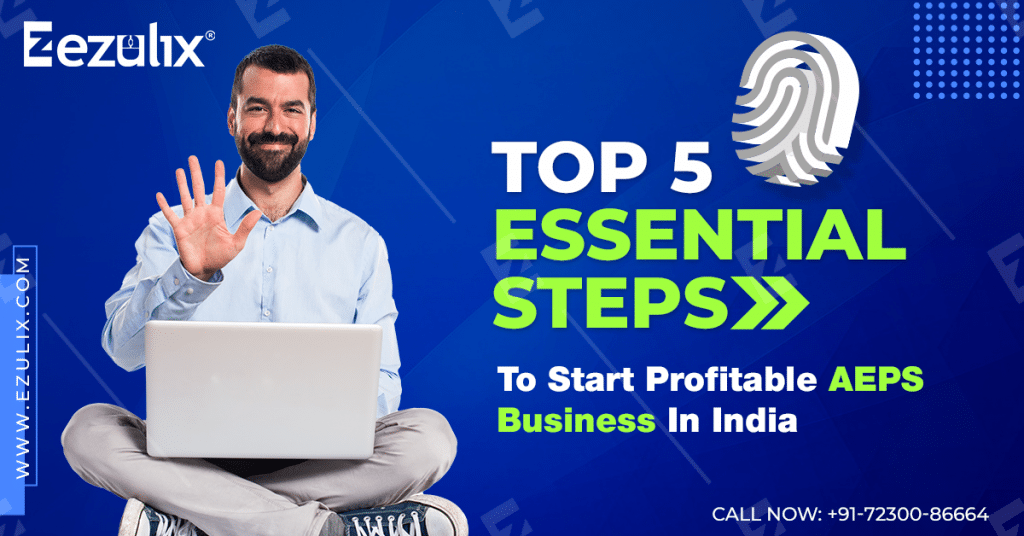 As soon as India is moving towards digitalization, AEPS business is spreading simultaneously. Not only in rural areas but also it is growing exponentially in semi rural and urban areas. The main reason behind the growth of AEPS is easiest, fastest and most secure payment method. This is India's most popular and fast growing digital payment method over the years.
AEPS stands for aadhaar enabled payment system that is started and regulate by NPCI. This payment system allows all banking customers to use banking services through Aadhaar card. To perform AEPS transactions, customer bank account must be linked with Aadhaar card.
By using Aadhaar banking, a customer can perform cash deposit, cash withdrawal, balance enquiry and mini statement. Bank customers can withdrawal up to 10,000/- by using Aadhaar card in a day. If any customer wants to withdrawal more, he/she can use Aadhar pay service through which they can withdrawal up to 50,000/- in a day.
In case If any customer forget their aadhaar card, they can use debit card to perform transaction using micro ATM.
So we can say AEPS is a one-stop solution for all basic banking transactions. This is the reason today youngsters, college pass outs and new entrepreneurs are showing interest in starting AEPS business in India.
In this article, I will tell you top 5 essential steps to start a profitable AEPS business in India. So keep tuning me till the end.
Essential Steps to Start AEPS Business in India
In this section, I will give you detailed information to start a profitable AEPS business in India. This section will make you easy to start and run a successful AEPS business in India.
Market Research
To start AEPS business, first thing that you required is AEPS software. There are number of AEPS service provider companies in India. So first step that you have to follow is market research. You must do market research online and offline to find out the best service provider for your business. As you know AEPS is a service type business and If you are in service industry, your service provider must be best in the industry.
There are few steps you can follow to make market research.
Do online research, go to Google and search best aeps portal for admin
Wrote down top 5 companies listed in Google search page
Call them, ask about clients and enquiry about service
Talk to clients and get review about services
Check customer reviews on website
So these are few steps you can follow to do market research.
Choose Best AEPS Service Provider Company for Business
After completing research, reach to a conclusion and choose the best AEPS service Provider Company in India. I would like to suggest you Ezulix Software as best one in this industry.
For more confirmation, get a demo of the portal, try to understand features. Make sure your AEPS portal has all the following features-
Real-time AEPS settlement
Aadhaar Pay Service
Payout Feature
Multiple API Support
Technical Assistance
Commission is High
High Success Ratio
Easy API Integration
Security is Essential
Quality Website and Mobile App
Easy to Use Panel
So If your AEPS portal fulfill all above requirements, you can rate it good.
Legal Formalities
After choosing AEPS software, now you need to fulfil few legal formalities to start a business. This will help you to have all legal proofs of your organization. First, you have to choose a name for your organization. After finalizing the organization name, you have to complete the following steps-
Company Name Registration
Get GST Number
Get PIN Number
These are essential legal information that you must have If you are planning to run a business hustle-free.
Domain Name and Web Hosting
In next step you have to buy your company domain and web hosting to run your website and portal. You can buy it from Godaddy easily. If you are unaware about this, your service provider can help you to complete this step.
Manual Training
This is last but not the least. After completing all the above steps now you need to take proper manual training of your portal. This training will allow you to understand your portal and its features. In this training, you have to clear all your doubts so that you can use it at optimum level and can make a huge profit.
Now you are ready to launch your AEPS business in market. You can create your downline and earn commission by providing AEPS services to your members.
For more details about AEPS, visit my blog or apply for a free live demo.
1,304 total views, 5 views today