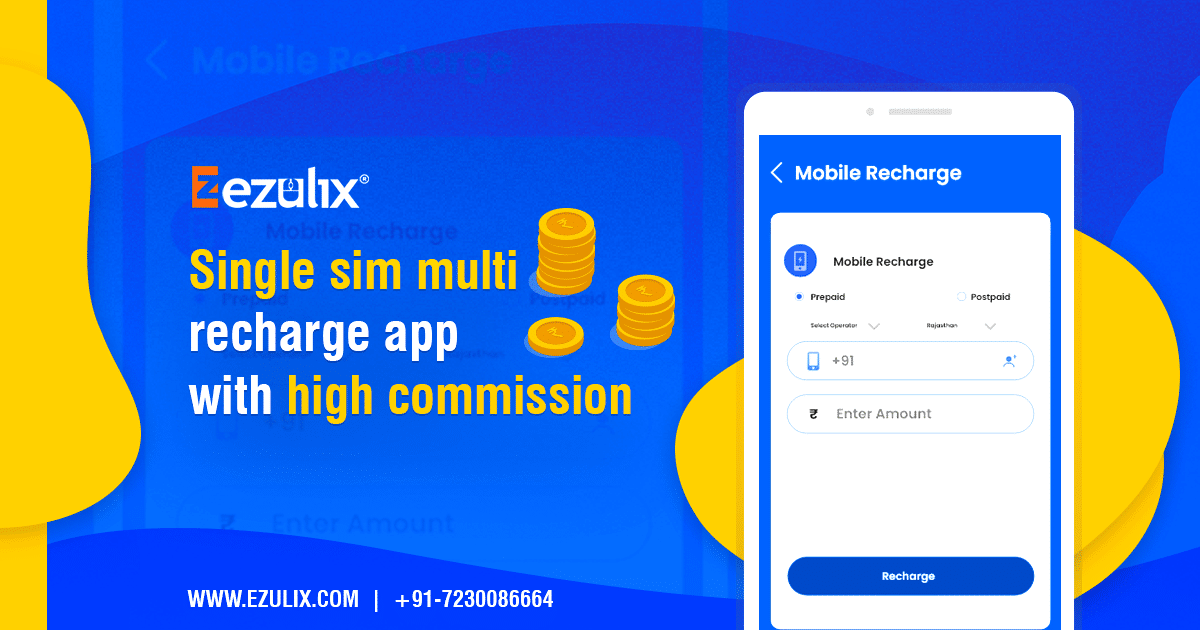 As we know the telecom industry is growing very fast. Most of the new entrepreneurs are looking for recharge business in this industry. If you are also one of them and want to start your own online recharge business and looking for an opportunity then this is for you. Here I will tell you how you can start your own recharge business by using multi recharge app with high commission. 
So without wasting time, I come to the point.
But before starting, we will discuss why today's recharge business is prior to thinking of everyone.
Why You Should Start Recharge Business?
If we talk about the present scenario, technology is growing very fast. In the 90s rarely people used mobiles. They used phone booths to call or they had one landline connection at home. But as technology is growing, today mobile is our basic need.
Today most people use mobile phones for communication. At present mobile is not just a tool to talk to each other, it is a huge platform where you can find anything which is happening in the world.
Students are using mobile to find out study materials, as well as teachers are using to educate students online. If we will talk about the importance of mobile, a day and thousands of words are also not enough.
But to use all these services through mobile, people have to recharge them. They need balance in SIM for calling, for surfing internet, for send messages etc.
This is the reason today the telecom industry is growing very fast. So If you are planning to start your own business, mobile recharge can be the best option.
How Many Levels to Start Mobile Recharge Business?
There are multi-levels on which you can start your mobile recharge business. It all depends on your investment and how much you want to explore.
You can start your own mobile recharge shop as retailer where you can recharge customer's mobile and can earn a commission on each recharge. This is the lowest level at which you can start a recharge business. You can start it at the lowest investment but If we talk about profit, it is also limited because you can only recharge limited people which nearby to your shop area.
But If you want to enhance your profit multiple time then keep tuning me.
Because now I will tell you about a wonderful opportunity through which you can explore your business all over India and can earn uncounted profit by just sitting in your office.
So are you excited?
This opportunity can change your life If you are willing to change it.
I will tell how you can start your recharge business at admin level and how can maximize your profit.
So let's come to the point.
First we will discuss about Admin level.
At this level, you have your own brand recharge portal and you can create unlimited master distributor, distributor and retailer all over India.
Is it sounding exciting?
I know one question is coming in your mind that how I will start this business, what I need to start and how I will manage everything.
Am I right?
Don't worry, I will explain everything in details.
First I will tell what you will need to start.
What do I need to Start Mobile Recharge Business as Admin?
To start high commission multi recharge company at admin level, the first thing which you need is mobile recharge software.
Mobile recharge software is an online platform that helps to recharge mobiles.
At starting, merchants have to use different mobiles and SIM cards to recharge different operators. But today you don't need to use multiple mobile and SIM connections, now you can recharge all the operators using a single software solution, that's why this is also known as single SIM multi recharge business.
There are many multi recharge companies in India that provide recharge portal with high commission.
Which is the Best Mobile Recharge Software Provider Company?
Ezulix software is a leading mobile recharge software provider company in India over the last few years.
We provide you standard best commission recharge app for mobile recharge business through which you can start recharge business with high commission at admin level.
We develop your own brand website, recharge portal, and mobile recharge app at the lowest investment. Along with this, we provide you manual training of our portal so that you can understand it which helps you to run a business successfully.
Support is a very important factor in the service industry. Ezulix has appointed a dedicated support team that provides you life-time free technical support so that you don't have t face any problem in your business. Their main motto is to resolve all customer's problems in a given time.
Ezulix Multi Recharge Software Features
Our mobile recharge software is fully customized and fulfill all aspects of the recharge business
Its interface is very easy so that everyone can use it with Zero technical knowledge
We have used secured mobile recharge API which ensures safe recharge payment
We launched your portal on a dedicated server which leads no downtime
You can recharge all the operators by having all balance in a single API
It is user friendly and SEO friendly recharge portal
Multi recharge app helps you to explore your business online through the Play Store
99.7% recharge success ratio
High commission recharge app integrated with portal 
You can control and check all your down line at the dashboard
You can check all recharge history
It has multi API integration facility, you can use different recharge API in your portal, so that If any operator is down, you can shift recharge on another API
So these are some features that make a difference to other recharge software.
Now we will discuss which services you can offer to your members using our advanced multi recharge app or portal.
Which Service You Can Offer Using Ezulix Recharge Portal?
By using our updated multi recharge software, you can recharge all prepaid, postpaid, and landline recharge of all the operators.
Along with this, we have integrated the Bharat bill payment system in our recharge portal. It helps you to offer all the following services which recharge.
DTH recharge
Data card recharge
Water bill
Gas Bill
Electricity bill
So you can offer all the services by using our online mobile recharge with high commission app which helps your members to boost their customer base.
We have used a modern layout in our recharge portal which makes it more attractive and potential and helps you to attract more members.
In short, we can say, this is a perfect online recharge solution for multi recharge business.
Conclusion
So here we learn what the mobile recharge business is and why it can be the best business start-up Idea at present.
So If you are planning to start your own brand multi recharge business, you can start with Ezulix advanced multi recharge software and can earn the highest commission.
To start the mobile recharge business, you have to apply for a free live demo.
Our recharge portal is a fully customized panel where you can offer multiple services by adding on API.
By using this recharge portal, you can also offer all basic banking services by adding on AEPS software it.
Along with recharge and bill payment, we also provide AEPS software and money transfer software. You can offer all services to your members and can maximize your commission by Ezulix b2b portal.
11,915 total views, 3 views today