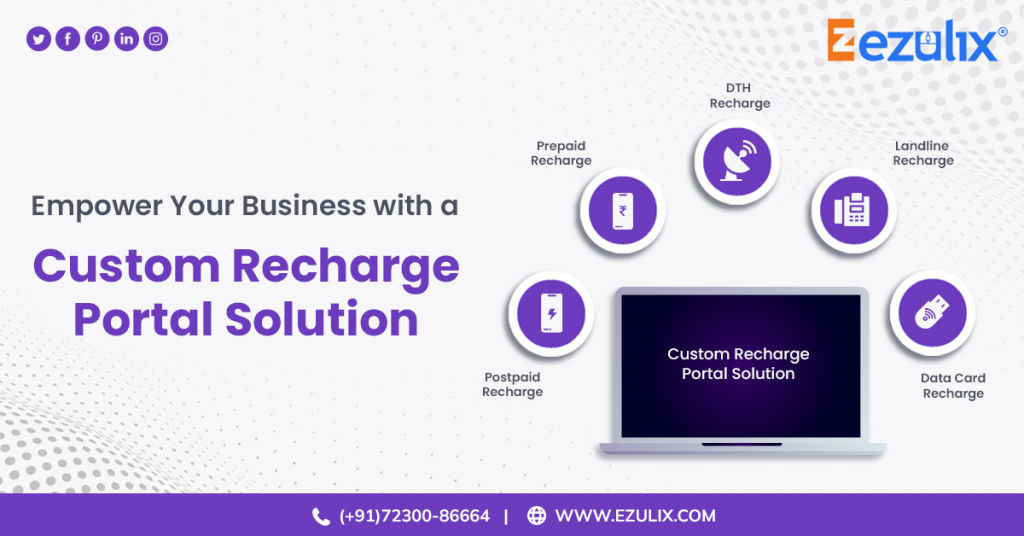 In today's realm era, convenience and accessibility are crucial points to remember. A personalized recharge portal solution developed as a potent instrument for empowerment as companies work to meet the changing expectations of their clients. Whether you work in the telecom, financial, or any other industry, having your business with a customized recharge portal may revolutionize the work with customers, streamline processes, and boost sales. A custom B2B recharge portal is designed to shape your business to develop your specific target customers. It is generally intended to improve customer experience with perfect security measures. Get yourself with a complete blog to provide exceptional features to your enterprise.
Understanding Recharge Portals
Recharge portals are online platforms where clients may top up their credit balances for mobile phone plans, internet access, prepaid cards, digital wallets, and many more. These portals offer a practical and attractive user interface for processing payments by acting between customers and service providers. With a streamlined and accelerating process of adding credit to a user's account for certain services, it works as the realm of online payments. Portals have user-friendly interfaces that are simple to browse. Users may quickly locate the perfect mobile phone, or DTH service provider recharge alternatives. The recharge platform provides a centralized, user-friendly, and secure platform. Users manage and top up their accounts for these services by the availability of numerous payment methods, various recharge plans, and real-time updates. Client's experiences are smoother and less stressful with its simplification and efficient performance. It would be best if you took this featureful recharge portal software in your business to manage access and the accessibility of its performance.
The Need for Customization
Customizing recharging gateways in the digital environment is essential to implement in your companies. Every time, with the same fit-all strategy, it cannot be possible when you strive to stand out and provide client-satisfied performance. The online Recharge portal can be tailored to match the company's design logo, cater the user experience to consumer segments, and provide services that address specific demands. It ensures platform adaptability to changing needs with flexible, scalable, and integrated services. Customization strengthens security measures, guarantees regulatory compliance, and gives the freedom to take head-on step-in competition by providing unique features. Customization in recharge portals is crucial to developing a unique, effective, and competitive solution for the organization's benefit.
Key Features of Custom Recharge Portals
With exclusive features, custom recharge portals play an exceptional game to adjust convenience in businesses and life to provide better options.
For profile creation, users should be able to create accounts safely, with email or mobile number verification, and log in to log in quickly.
Users can easily use the recharge admin portal with its well-designed and user-friendly interface, facilitating a seamless recharge experience.
Multiple Service Provider
The frame of the recharge portal needs to have various options for recharging, and the custom portal should support cell carriers, DTH providers, and other service operators.
Users can set up automatic recharges using an optional auto-recharge feature for a specific date or if their account balance exceeds a predetermined level.
For developing different user preferences, additional payment options include credit or debit cards, net banking, mobile wallets, UPI, and many more.
Transparency and record-keeping should be ensured by giving users access to transaction history to reveal previous recharges.
Strong security measures like encryption, two-factor authentication, and secure payment channels safeguard user data and financial information.
Personalized User Experience
The overall user experience can be improved, becoming more engaging and relevant with personalized recommendations, promotions, and user dashboards.
Benefits for Businesses
You are coming to the benefits of the recharge portal for your growth and progress in your businesses. You need to complete the project for your improvement.
Competitive Edge
Compared to ordinary ready-to-use alternatives, an all-in-one recharge customized portal offers a sizable competitive edge because of its exclusive features, superior user interfaces, and more dependable services.
Flexibility and Adaptability
Customization makes it simple for businesses to add, amend, or delete services and features, ensuring the portal is always perfect with changing consumer demand and market trends.
Businesses can leverage other revenue streams by integrating services like bill payment, ticket booking, or value-added offerings within the bespoke portal.
Custom recharge portals may scale to suit rising user numbers as businesses expand, guaranteeing cost- and time-effectiveness over the long term.
User assistance and issue resolution are improved through integration with customer support services like chatbots, FAQs, or ticketing systems, which raises overall customer satisfaction.
A custom recharge admin panel can be created to harmonize perfectly with a company's branding and identity. Customers' brand loyalty and familiarity are bolstered by this constant branding.
Choosing the Right Development Partner
We are now coming to our point about choosing the right partner for developing a recharge portal for businesses. We provide key monitored features before selecting any partner to develop recharge portal software.
Consider working with development partners who have experience creating unique recharge gateways and similar solutions. An advantage is having experience in your area, such as telecom, finance, or utilities.
To evaluate the standard of the development partner's prior work, look at their portfolio. Ask for references from previous customers to learn more about their effectiveness, dependability, and client satisfaction.
Make sure the development team has the technical knowledge needed for your project. With the inclusion of expertise in using programming languages, databases, security standards, and system integration.
Communication and Collaboration
Collaboration and effective communication are crucial. Pick a partner who involves you in the development process, is responsive, and keeps open lines of communication.
Budget and Cost Transparency
Set your financial boundaries and expectations upfront. Select a partner who offers transparent pricing and stays away from hidden fees.
Conclusion
For custom recharge portals, selecting the best development partner necessitates careful consideration of your unique project requirements and thorough research. We understood complete guidance about portals developed for making easy payments with mobile recharge software. You may lay the groundwork for a customized recharge site that satisfies both your company goals and your customers' needs by choosing a partner with the appropriate knowledge, experience, and collaborative style.
So If you are planning to start your own online mobile recharge business and looking for best recharge portal development, this is for you. Request a free live demo now.
419 total views, 1 views today