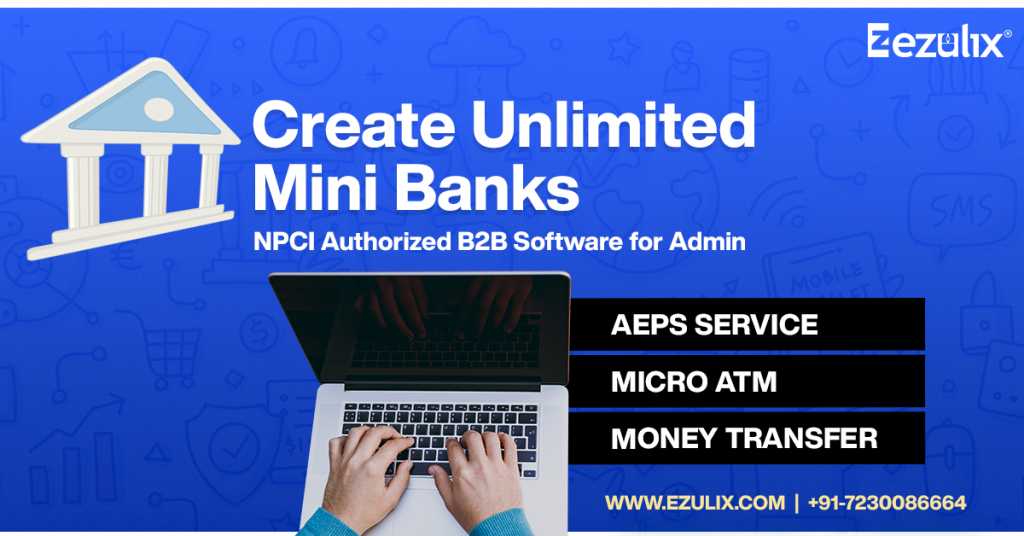 Have you heard about the word mini bank?
Isn't seems like a small bank?
Don't worry, I am here to explain to you everything about mini banking, what is it, how it works, who controls it and how can you start your own mini bank in 2021 and can make it a handsome source of Income.
I am damn sure this article is gonna be very profitable as well as information. So If you are planning to start your own business and looking for a safe shot opportunity then this article can be a proven gem for you.
So without wasting time, I come to the point.
What is the Mini Bank?
A mini bank can be explained as a small version of the bank that provides limited services and resources to customers as authorized bank agents.
In simple words, we can say mini banks are authorized bank agents who provide basic banking services to customers and earn commission in return.
But the point is why these mini bank's required?
India is a very big country with a huge population. After 74 years of Independent still, we are developing country. Our banking system was also conventional and lengthy. Along with these a big part of the population was not contributing in the economy because of the lack of banks and ATMs in their areas. Still, in 2021, there are many societies in India that are not properly getting banking services.
To eliminate this problem, NPCI (National Payment Corporation of India) started a bank-led model named AEPS service.
AEPS service allows all bank customers to use basic banking services using their Aadhaar card number. To use banking services, a customer's aadhaar card must be linked with your primary bank account. This was the first innovation towards a digital society. Today along with AEPS, NPCI has expanded their products like a mini ATM machine, Rupay, BHIM, UPI and many more.
A mini bank is a place where you can use any of these services to perform banking transactions. These are also known as bank Mitra CSP.
How Do I Start Mini Bank Admin Portal?
The mini bank admin portal is a software solution through which you can create unlimited authorized bank Mitra CSP all over India and can earn huge commissions.
To start a mini bank admin portal, you have to buy a mini bank admin portal with all b2b services like AEPS, money transfer, micro ATM, Aadhaar pay etc.
Either you can buy this mini bank admin portal directly with the bank but this is very costly and you have to fulfil all their terms and conditions that become very hectic.
To resolve this problem, Ezulix Software has developed an advanced mini bank admin portal through which you can create unlimited bank Mitra CSP all over India and earn commission by providing banking facilities like cash deposit, cash withdrawal, money transfer, mini statement, balance enquiry, micro ATM, aadhaar pay etc.
Our b2b admin portal is a fully customized mini bank porta;l, based on latest technology. Our skilled and experience professionals' team developed this panel to keep user-friendliness in mind. We have made this system so simple and proactive that allows any person to handle it easily. This is the reason, today we are well known mini bank admin software provider company in India.
To start a mini bank admin portal you have to apply for a free live demo.
Here our executives contact to you and provide you a complete overview of our system, services and features that help to manage your business easy and sophisticated way.
Get Cost-Effective Mini Bank Portal with Updated Features Today?
Money is a very big problem in the way of any business startup. Most of the people can't convert their Ideas into business reality just a lack of money. To keep this in mind and to make more and more people eligible to start this business, we have pulled down our prices low in comparison to other companies in India.
If you want to learn more about B2B admin portal price that provides you unlimited mini bank access, you can directly contact our executives.
Which Services You Can Offer to Your Members as Admin?
By using the Ezulix b2b admin portal you can create unlimited authorized bank Mitra CSP all over India and can offer all the following services.
Cash Deposit
Mini Statement
Money Transfer
Balance Enquiry
Aadhaar pay
Micro ATM
AEPS Payout
Express Pay
ICICI Bank AEPS
Yes Bank AEPS
Paytm Bank AEPS
So these are all services you can provide to your mini banks and can earn the highest commission in the market.
Last Words
So here we learned how you can start your own mini bank admin portal and can create unlimited authorized mini banks all over India.
Along with this, we facilitate mobile recharge software, utility bill payment software and a travel portal that helps you to attract more members into your portal.
I hope this article will help you to make a good decision about your business. For more details visit my blog or Book for Free Live Demo.
6,161 total views, 5 views today