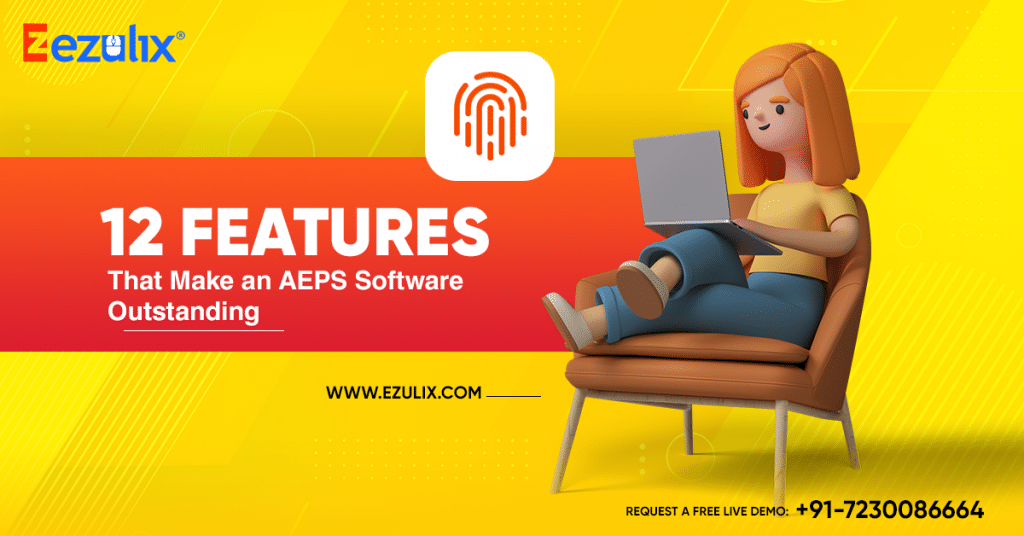 NPCI started AEPS service in India to develop a cashless society. Today India is on the path of a digital strong country. Where before 2010, people were totally relying on cash transactions, in 2021 picture is completely changed. Now people are adopting the digital approach and also encouraging a cashless society in India. Today here we will discuss top 12 features of AEPS software that make it OUTSTANDING.
AEPS stands for Aadhaar enabled payment system that allows all bank customers to use banking services through unique Identity numbers and finger-print authentication. To use Aadhaar banking, a customer's bank account must be linked with Aadhaar card. NPCI developed this system in a way that helps people to use banking services at all those places where banks are not able to reach.
Along with banking facilities, this system is helping to generate business. Today anyone can start their own banking point and can provide banking service and can make handsome income.
Essential Features of AEPS Software
Here we will discuss all the outstanding features of AEPS software. This helps you to understand why AEPS is so popular among banking services.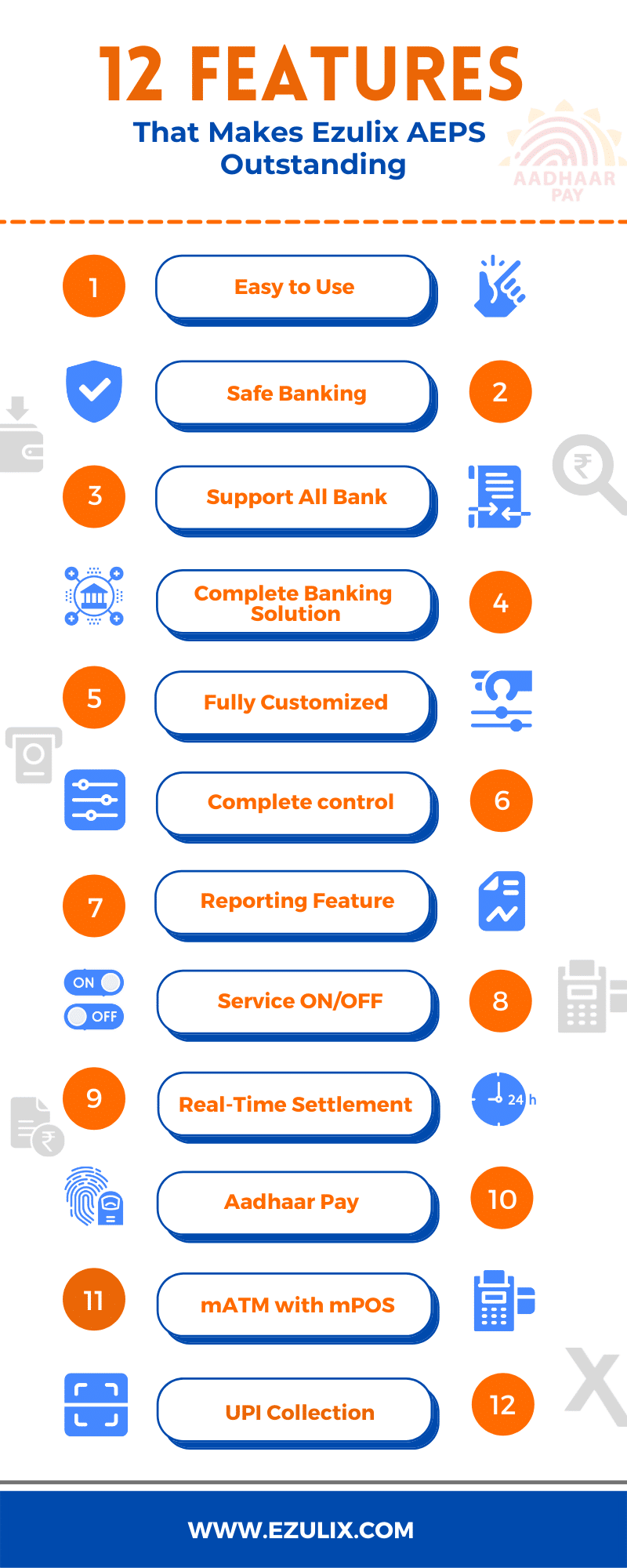 So keep tuning till the end.
Easy to Use
To use banking service through AEPS software, a customer has to visit a nearby banking point or AEPS service provider and has to provide an Aadhaar card number. After that, he has to select banking transactions and fingerprint authentication at last as the PIN.
That's it.
Using banking through AEPS is very easy to use for anyone. Either you are well educated or a village farmer, using banking through AEPS is easiest for everyone.
Safest Method for Banking
If we pay attention to its process, the customer has to use a fingerprint as the PIN. Every person in this world has a unique fingerprint impression. The thought behind this is to make this AEPS system more secure and safe so that people can believe on this.
Along with this, software use multiple security parameters to make it safer and secure from all unwanted activities.
In short, we can say today banking through AEPS is the most secured banking method through which you can make transactions hustle-free.
Support All Bank Transactions
This is another great feature of the AEPS service. Doesn't matter, in which bank you have your bank account, you can perform banking through AEPS. Although, AEPS service is regulated and controlled by NPCI and NPCI has developed this system in a way that supports all banks.
I think this is the reason, this banking system is so OUTSTANDING.
Complete Banking Solution Under a Single Roof
By using AEPS software, a bank customer can use all basic banking services under a single software. Using your Aadhaar card, you can perform all the following services without paying extra.
Cash Withdrawal
Cash Deposit
Mini Statement
Balance Enquiry
Money Transfer
These are all basic banking transactions that people perform generally. So as a service provider, you don't need to pay for different software solutions. You can offer all basic banking services through single AEPS software.
Fully Customizable AEPS Portal
Ezulix software is a leading AEPS service provider company in India over the last few years. We provide you fully customizable AEPS portal. You can make any changes in your portal based on your business need. You can change your logo, design, colour and dashboard feature as per your comfort.
Along with this, here you are not bounded to work with us only. If you are willing to provide other banks AEPS services, you can integrate the AEPS API of that bank in our portal and can offer services.
By using our AEPS portal, you can offer banking services through ICICI bank, YES Bank, FINO bank and further, we are also talking with PayTM.
In short, I can say, this is a fully customizable panel that you can control and change as per your business nature and demand.
Complete Control on Panel
Although admin is the owner of the company and portal, that is why we provide complete control of software in the hand of admin.
Admin is the right and legal person to make any changes in panel. He is an authorized person to manage the complete business. Along with changes, he has all information of the portal, members and their services. He can add or remove members, can moderate commission, vary services as so on.
In short, we can say, admin is the only person in our portal who has complete rights. Admin further can distribute roles to his team based on their department but here he has complete control that every department watch only their panel, not others.
Reporting Helps to Analyse Business
Reporting is a very crucial element of any business, study or work through which you can analyse the performance. Here we provide you a report section where you can check all details regarding transactions.
You can check your lifetime transaction, daily transaction, live transactions, profit, loss, wallet balance everything.
This section is very important and I always suggest our clients be familiar with this part of the software. Because this is the section that will tell you either is your business in profit or loss. How you can improve your business and what are good and bad in your system.
Service ON/OFF in One Tap
When I was explaining to you about control, I gave you a hint about these features.
Although admin is the owner of the company and we have assigned all control in the hands of admin. Here our skilled and experienced professional's team developed this feature very creative. Here is the list, all the services will mention after the name of the client.
In case if the client wants to pause any service or any unwanted activity occur, in this situation, the admin doesn't have to be hectic. Simply he has to visit in that particular member profile and just OFF the service with just one click.
Is it exciting?
After implementing this feature in our portal, We got a number of emails and DMs as this is one of the best features in the panel.
24*7 Real-Time Settlement Through PAYOUT
The settlement from AEPS wallet to bank account is one of the biggest issues in most of the panels. To resolve this problem, we have integrated AEPS payout and Express Payout service in our b2b AEPS portal. Now your members don't have to wait for settlement.
They can get real-time settlement 24*7 by using our new express payout service. Now, this is a little different from AEPS payout. In express payout, members can take settlements in multiple accounts.
They can also use this feature to provide a money transfer service to customers at the comparatively lowest surcharge.
So we can this is another great feature which contributes to making it OUTSTANDING.
Aadhaar Pay Allowed Extended Withdrawal Limit
By using AEPS service, a bank customer cans withdrawal up to 10,000 rupees from one bank account. But what if anyone needs more than 10K?
In this situation, your members can use our Aadhaar Pay service and can withdrawal up to 50K from one bank account.
So this Aadhara Pay feature can help you to extend the withdrawal limit.
Micro ATM- Future of Banking
Micro ATM or mATM machines are compact versions of traditional ATM machines. You can perform banking activities through micro ATM using debit cards. People whose fingerprints are not detected by machines or If anyone who does not carry Aadhaar card, can use AEPS service through micro ATMs.
The process of using micro ATM is quite similar to AEPS service. Here people have to use a debit card in place of Aadhaar card and they use PIN by replacing finger-print authentication.
Ezulix software has most latest micro ATM machines with add-on mPOS features. This means you can get the advantage of both mATM and mPOS features through our new micro ATM machine.
UPI Collection with Commission
Payment collection through UPI is most common now a day. PhonePe, Paytm, BHIM and many other banks provide payment collection services through UPI.
But we provide you UPI collection service with the commission. Yes, your ears are listening right. Now your members can earn commission on payment collection through UPI by using the Ezulix UPI collection feature.
This is the latest feature that we have added in our portal.
So these are all essential features that make our AEPS software OUTSTANDING in the market.
Conclusion
So here we learned about all the features that our AEPS portal has. We are a leading AEPS service provider company in India.
So If you are planning to start your own AEPS business and looking for the best opportunity, then this is for you.
Along with all services and features, we offer you the highest commission in the market. You can add on multiple services like multi recharge, utility bill payment, money transfer, pan card, travel, prepaid card and many others. In short, we can say, you can be a complete fintech solution hub in the market and can make a handsome amount of Income.
For more details visit my blog or apply for a free live demo.
6,014 total views, 17 views today